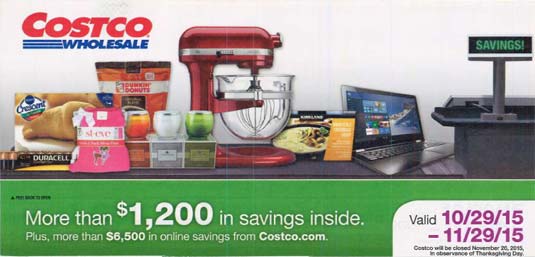 Hot off the presses is another really early preview of the November 2015 Costco Coupon Book.  The coupons run from October 29th through November 29th. Yes, you read that right, that's 4.5 weeks of coupons, which is very unusual for the coupon book. Clicking the link above will show you the coupons so you can view them and print them if you'd like. The December 2015 Costco Coupon Book starts on December 1st, the day after the November coupon book ends. Seeing an early preview of the Costco ad will give you the opportunity to plan your upcoming Costco trips so that you can wait to buy those items that will be on sale in November. This Costco flyer does overlap with Thanksgiving and Black Friday, but expect another special Costco Black Friday ad to come out next month. If you want to be the first one to see that ad subscribe to our email list, like us on Facebook, and follow us on Twitter!
As soon as I saw the first page of the November coupon book I got really excited! Hurray for items in the coupon book that make you genuinely excited. It's been a while for one of those to happen for me! It was the Feit 48′ String Lights! I recently bought a few sets and they are amazing. They've got to be one of the most popular items at Costco right now and at $10 off they are a great value, making them $39.99 after coupon. The Kirkland Signature diapers are always a good value, and are $4 off. I know there are a lot of Nutella fans out there that will be very happy to see the two pack at $3.50 off. Lastly, I love the stuffed bell peppers from the deli, so I am pretty excited to see those on coupon next month. I wonder how many I can eat before I get tired of them. Speaking of tires, November is Bridgestone tire discount month.
Let us know which items in the November Costco coupon book you can't wait to buy? Any sales stand out to you? Read more to see all the coupons below.