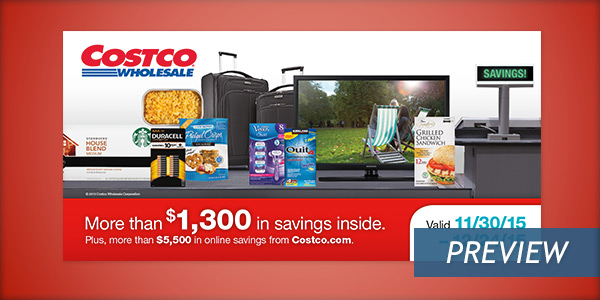 Just posted is the December 2015 Costco Coupon Book. The coupons are valid from November 30th through December 24th. The Costco coupon books almost always start on a Thursday and end on a Sunday. Surprisingly, this ad flyer starts on a Monday and ends on a Thursday. Part of the reason is that the Black Friday Ad ends on Sunday, as does the November Coupon Book. Also, Christmas is the day after the coupons end. If you want to view Decembers ad click the link at the top of the page. I've also posted January's coupon book if you'd like to see it. And if you want to be the first to be notified of next months coupons, subscribe to our email list, like us on Facebook, and follow us on Twitter!
The December coupon book runs during peak Christmas shopping time, so you would think it would be full of Christmas gifts, and it definitely has some. There's the men's watch on page 1, some laptops, some bluetooth speakers, some gift sets, a luggage set, and more. The Roomba at $299 is much cheaper than you'll find for the equivalent non-Costco model, the 650, which retails for $399. The Costco model also has a much better battery and base. High quality blenders are pretty popular these days with juicing, spinach and kale shakes, and more, and after examining the price of the Vitamix 5300, it is a great deal. Amazon sells it for almost $100 more than the Costco price of $349. Having used one myself, I highly recommend Vitamix blenders as well. The Snack Factory Pretzel Crisps are back in Costco to the delight of many. As for myself, I don't think I will pick up anything. The tire coupon is Bridgestone again, and I expect it to switch back to Michelin next month.
The December Costco coupon book is pretty short at only 12 pages long, but is there anything that stands out to you? Read more to see all the coupons below, as well as some prices after coupon.
FOOD
Crunchmaster Multi-Grain Crackers 2/14 oz $9.99
Instant Savings: -$2.50, = $7.49
Cuisine Adventures French Onion Soup 6/10 oz $10.69
Instant Savings: -$2.70 = $7.99
General Mills Lucky Charms Cereal 2/23 oz $6.99
Instant Savings: -$2.40 = $4.59
Kellogg's Kashi Organic Promise Cinnamon Harvest Cereal 2/26 oz $7.99
Instant Savings: -$2.40 = $5.59
Kirkland Signature Macaroni and Cheese $2.99/lb (average package is around $9.50)
Instant Savings: -$2 per package
Minh Pork and Vegetable Egg Rolls 18 ct $7.89
Instant Savings: -$2 = $5.89
M&M's Milk Chocolate and/or Peanut 56 oz $9.99
Instant Savings: -$2.50 = $7.49
Nabisco Ritz Crackers 61.6 oz $8.59
Instant Savings: -$2.10 = $6.49
Nature Valley Protein Bar 30 ct $13.69
Instant Savings: -$3.70 = $9.99
Pierre Signature Grilled Chicken Sandwich 12/4 oz $10.29
Instant Savings: -$2.30 = $7.99
Snack Factory Pretzel Crisps 32 oz $5.99
Instant Savings: -$2 = $3.99
BEVERAGES
Folgers Classic Roast Ground Coffee 48 oz $10.99
Instant Savings: -$2.30 = $8.69
POM Wonderful 60 oz $8.99
Instant Savings: -$2.70 = $6.29
Starbucks House Blend K-Cup Pods 54 ct $34.99
Instant Savings: -$5 = $29.99
Sunny D 24/11.3 oz $9.99
Instant Savings: -$2.50 = $7.49
Vita Coco Coconut Water 12/11.1 oz $13.99
Instant Savings: -$3.50 = $10.49
PETS
Fancy Feast Variety Pack 48 ct $25.99
Instant Savings: -$5.50 = $20.49
Jerky Treats for Dogs Beef and/or Lamb 60 oz $10.89
Instant Savings: -$4 = $6.89
HOME/HOUSEWARES
FoodSaver Heat-Seal Vacuum Bag and Roll Combo $39.99
Instant Savings: -$8 = $31.99
iRobot Roomba 655 Vacuum Cleaning Robot $349.99
Instant Savings: -$50 = $299.99
Luminarc Tribute 20-Pc Drinkware Set $19.99
Instant Savings: -$4 = $15.99
Pur Maxion Faucet Mount System with 2 Filters $34.99
Instant Savings: -$10 = $24.99
Pur Maxion Replacement Filters 7 pk $48.99
Instant Savings: -$10 = $38.99
Rubbermaid Premier 30-Pc Food Storage Set $29.99
Instant Savings: -$6 = $23.99
Sabatier Expandable Dish Rack $29.99
Instant Savings: -$5 = $24.99
Samsonite Movelite 2-Pc Softside Luggage Set with Sphere Wheels $149.99
Instant Savings: -$30 = $119.99
Shark Rotator Powered Lift-Away XL Capacity Bagless Vacuum $299.99
Instant Savings: -$80 = $219.99
Vitamin 5300 High Performance Blender $399.99
Instant Savings: -$50 = $349.99
CLEANING, etc.
all Stainlifter and/or Free & Clear Liquid Laundry Detergent $15.89
Instant Savings: -$4 = $11.89
Downy Unstopables In-Wash Scent Booster 36.2 oz $14.99
Instant Savings: -$3 = $11.99
Kirkland Signature Environmentally Responsible Dish Detergent $8.89
Instant Savings: -$2 = $6.89
Kirkland Signature Environmentally Responsible Ultra Clean Laundry Detergent 126 loads $13.99
Instant Savings: -$3 = $10.99
Kirkland Signature Ultra Clean Laundry Detergent Pacs 130 ct $17.99
Instant Savings: -$3.60 = $14.39
Liquid-Plumr Clog Destroyer 2/128 oz $13.79
Instant Savings: -$3 = $10.79
CLOTHING
Puma No-Show Socks 6 pairs $9.99
Instant Savings: -$2 = $7.99
ACCESSORIES
Invicta Pro Diver Men's Watch $149.99
Instant Savings: -$50 = $99.99
PERSONAL CARE
Dove Beauty Bar 16 ct $15.99
Instant Savings: -$3.25 = $12.74
Gillette Fusion ProGlide Power Razor + 6 Cartridges with Bonus Travel Case $31.99
Instant Savings: -$6 = $25.99
Gillette Venus Swirl Razor + 8 Cartridges $34.99
Instant Savings: -$5 = $29.99
Philips Norelco Shaver 4600 $79.99
Instant Savings: -$20 = $59.99
Philips Sonicare EssentialClean Rechargeable Toothbrush 2 pk $99.99
Instant Savings: -$25 = $74.99
ELECTRONICS
Dell XPS 8900 Desktop Computer $999.99
Instant Savings: -$200 = $799.99
EcoCarbon Waterproof Bluetooth Speaker $88.99
Instant Savings: -$20 = $68.99
HP Envy 7645 Wireless All-In-One Printer $169.99
Instant Savings: -$70 = $99.99
HP Pavilion Full HD 15.6″ Touchscreen Laptop $729.99
Instant Savings: -$130 = $599.99
iHome Lightning Alarm Clock $79.99
Instant Savings: -$15 = $64.99
Panasonic 5-Handset Phone $129.99
Instant Savings: -$30 = $99.99
Samsung 24″ 720p LED LCD TV $169.99
Instant Savings: -$40 = $129.99
Seagate 4TB Backup Plus Portable Hard Drive $169.00
Instant Savings: -$30 = $139.00
Toshiba Fusion 15.6″ 2-in-1 Touchscreen Laptop $949.99
Instant Savings: -$150 = $799.99
Yamaha Sound Bar with Built-In Subwoofers $189.99
Instant Savings: -$40 = $149.99
OUTDOORS
LED 3 Flashlight Gift Set $36.99
Instant Savings: -$7 = $29.99
BATTERIES
Duracell Alkaline Coppertop Batteries AA (40 ct) and/or AAA (32 ct) $14.99
Instant Savings: -$3 = $11.99
AUTOMOTIVE
Garmin Nuvi 2599LMTHD 5″ GPS $229.99
Instant Savings: -$40 = $189.99
Ultimate Gel Seat Cushion $18.99
Instant Savings: -$4 = $14.99