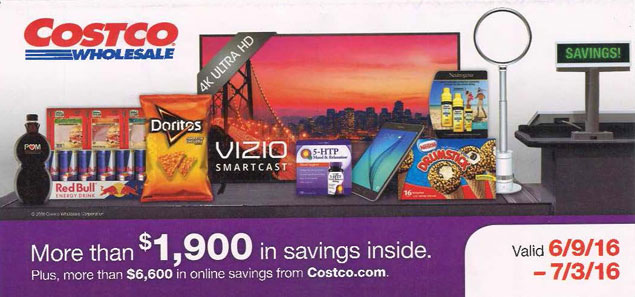 Today we are publishing a rather early preview of the upcoming June 2016 Costco Coupon Book for you. Clicking the link above will display the coupons so you can view them or print them if you'd like. The June Costco ad flyer runs from June 9th through July 3rd. The July coupon book starts July 7th if you'd like to see that one too. If you want to be the first to be notified when next months coupons are posted then subscribe to our email list, or like us on Facebook!
Looking through the June coupons, there are no items that stand out to us too much. The Vizio 70″ 4K HD LED TV is pretty interesting. We also find the Dyson 17″ Pedestal Fan intriguing, and believe it's the first time it's been in the coupon book. There are more summer items in June, with more sunscreen, a cooler, and charcoal briquettes. Also, the Dove body wash is a good deal at $3 off. The tire coupon is Michelin again and runs through July 6th. There is also a BF Goodrich coupon if you buy them online, which is interesting because we haven't seen another tire company besides Michelin and Bridgestone in the coupon book before.
What are your thoughts on the June coupon book? Which items can you not wait to pick up? Remember, you must click the link above on the June coupon book page in order to display the coupons on the page.