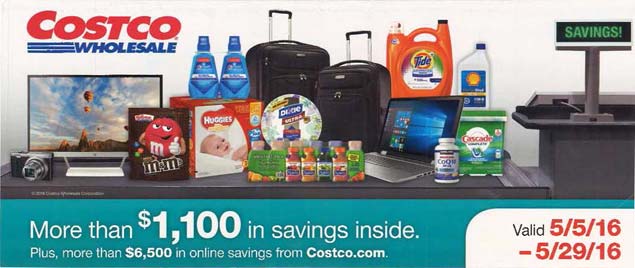 Here is an early preview of the May 2016 Costco Coupon Book. If you click the link above once on the May post page the coupons will display below, where you will be able to view them or print them. The May Costco ad flyer runs from May 5th through May 29th. The June coupon book begins June 9th if you'd like to look at it and plan ahead. If you want to be the first to be notified when next months coupons are posted then subscribe to our email list, like us on Facebook, and follow us on Twitter!
The May coupon book once again does not excite us too much this month. We'd say it's another average set of coupons, and we imagine that's because we've seen so many over the years. The Snappers Dark Chocolate Sea Salt Caramel Pretzels are really good, especially at only $6.99 after coupon, and you should check out our review of them if you have not already. As could be expected, there are a lot of summer items in this flyer. On sale is Neutrogena sunscreen, OFF! insect repellant, a cooler, Honest sunscreen, water toys, and Samsonite luggage. Huggies diapers are rarely on sale as well, so now would be the time to stock up on those. The tire coupon has switched back to Michelin, and will be that way through June.
Are you excited for the May coupon book? Are you going to try out the Snappers? Don't forget to click the link above once on the May Costco coupons page in order to see the coupon book images.