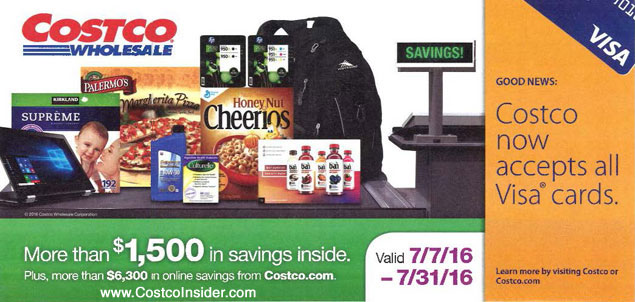 If you're looking for the July 2016 Costco Coupon Book you've come to the right place. Clicking the link above from within the coupon page will display them all so you can view or print them if you'd like. The July Costco ad flyer runs from July 7th through July 31st. If you want to be the first to be notified when next months coupons are posted then subscribe to our email list, or like us on Facebook!
The July coupon book seems a little small to us at only 15 pages of coupons. If you're traveling this summer the spinner luggage set could be a good item to buy. We love the MusclePharm Combat Protein Powder in Cookies 'N' Cream. We bought this last time it was on sale and have been waiting for it to go back on sale so we could buy more, even though we ran out a few weeks ago. Another item we love is the Bai Antioxidant Infusion Variety Pack, which is on sale for $4 off. Each drink is only 10 calories, uses Stevia instead of Sucralose or Aspartame, and all flavors are quite delicious. The tire coupon has switched back to Bridgestone, and starts two days earlier than the rest of the coupon book on July 5th.
Which items in the July coupon book stand out to you as great deals? Which ones are you going to pick up right away? Remember, you must click the link above on the July coupon book page in order to display the coupons on the page.