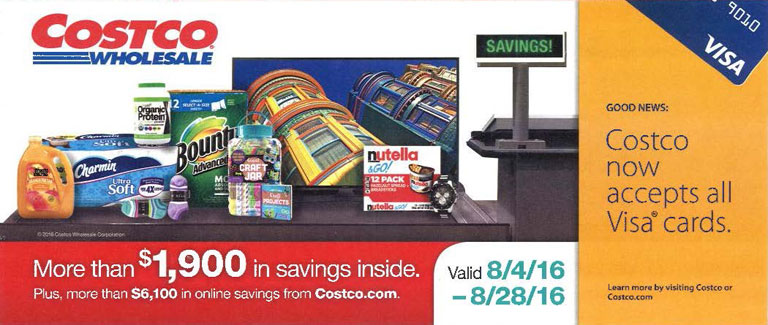 We've just posted a preview of the August 2016 Costco Coupon Book so you can get an early look. Clicking the link above from within the August coupon page will display them all so you can view or print them if you'd like. The August Costco ad flyer runs from August 4th through August 28th. We also have an early preview of the September coupon book if you'd like to take a look at that. If you want to be the first to be notified when next months coupons are posted then subscribe to our email list, or like us on Facebook!
The early reviews we've seen about the August coupon book have been pretty unexcited. The CytoSport Protein Powder is a great deal at $32 after coupon for 6lbs of protein. We've heard positive reviews of the Panko Breaded Chicken, so perhaps you want to try it while it's on sale. Lastly, if you don't have a large Bluetooth speaker we highly recommend the Ion Bluetooth Speaker. The tire coupon is Bridgestone again and starts on the 1st of August, so there will be no days without a coupon.
Would you agree with the early reviews on the August coupon book? Which of the items do you hope to pick up next month? Remember, you must click the link above on the August coupon book page in order to display the coupons on the page.