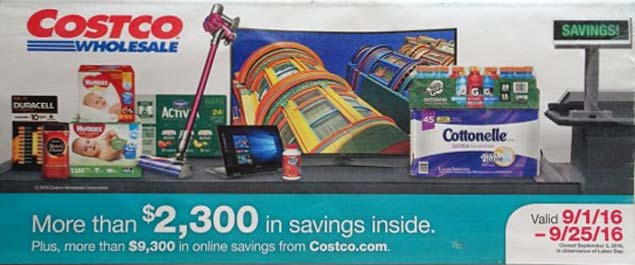 Starting Thursday is the September 2016 Costco Coupon Book. If you'd like an early look at it then click the link right above this sentence, which will allow you to zoom in and print the coupons if you'd like. The September Costco ad flyer runs from September 1st through the 25th. Also, here's an early look at the October 2016 Costco coupons if you'd like to take a look. If you want to be the first to be notified when next months coupons are posted then subscribe to our email list, or like us on Facebook!
At initial look we'd have to agree that the September coupon book is not very interesting. One interesting thing of note is that usually the umbrellas come as a two-pack but this month the sale is for a single ShedRain umbrella for $2 off. We at Costco Insider love the ZonePerfect bars and cannot recommend them enough. You should definitely give them a try if you have not. The tire coupon has moved back to Michelin.
What do you think of this months Costco coupon book? Will you be purchasing any of the items on sale? Remember, you must click the link above on the September coupon book page in order to display the coupons on the page. I have also posted a list of items and their final prices below.