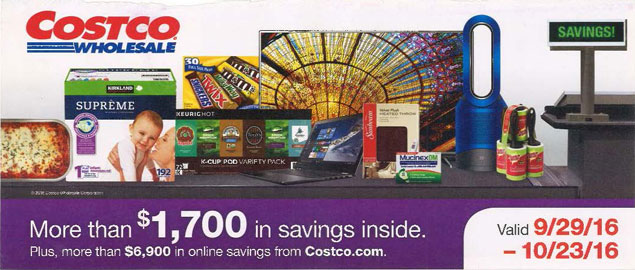 We've just posted an early preview of the upcoming October 2016 Costco Coupon Book, which runs from September 29th through October 23rd. Clicking the link above will take you right to the Costco ad flyer, so you can view it or print it if you'd like. If you'd like, you can take a peek at a really early preview of the November coupon book. We'll update the quality of the coupon images as soon as we are able to procure a better copy. If you'd like to be notified as soon as we post the latest coupons you can sign up for our email list, or Like us on Facebook!
For the first time in quite a while we're actually excited about this months Costco coupon book! We like the Kirkland Signature Ravioli Lasagna found in the deli, which is $2 off per package. We recently started using the Keurig K525C coffee brewer and so far we've been happy with it. The Head Multi-Sport Gloves are nice and pretty reasonable at $10. We really like the Braun Series 7 Wet & Dry Shaver and would recommend it. It's that time of year where the Goodyear Wiper Blades are on sale at $4.99 each. Lastly, the Bai Antioxidant Variety Pack is really tasty and low calorie, and if you haven't tried them yet we highly recommend them. The tire coupon is Michelin again, and note that it starts on the 26th, so that way you can still use it between the September and October coupon books.
So, are you as excited for this months coupon book as we are? Which items are you going to pickup? Any of our suggestions? Tell us in the comments!