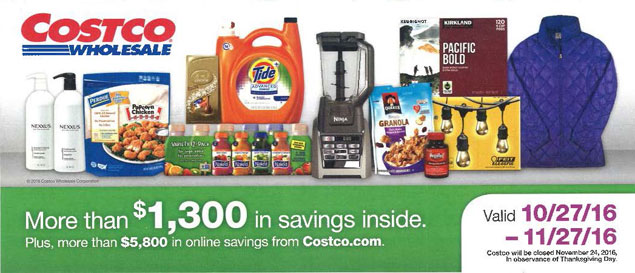 We can't wait any longer for the holidays and deals to get here, so we've posted the November 2016 Costco Coupon Book for your viewing pleasure. Clicking the link above will take you right to the coupon pages so you can view them. It will run from October 27th through November 27th. Yes, that does include Black Friday. We have also posted the Black Friday special coupon book as soon as we get that. If you'd like to be notified as soon as we post the latest coupons you can sign up for our email list, or Like us on Facebook!
For the second month in a row we've found some interesting things in the Costco coupon book! The Ninja coffee bar hasn't been on coupon before, nor has the Cuisinart 11-cup food processor or the crab cakes. The stuffed bell peppers are probably our favorite item in the deli, and highly recommend it. From past experience we know there are a lot of Nutella fans out there that will be very happy to get a discount at Costco. The Feit 48′ String Lights are a great buy too, and I believe they are cheaper than last year, at $35 after coupon. If you're looking to get a good head start on Christmas time you can get $5 off your custom made holiday cards. The tire coupon is switching back to Bridgestone for the next two months.
Are you excited for the new items in the November coupon book? Which ones are you going to grab in store? Let us know what you think in the comments! A sample list of items with the prices (from one store in Washington) are also displayed with the coupon book.