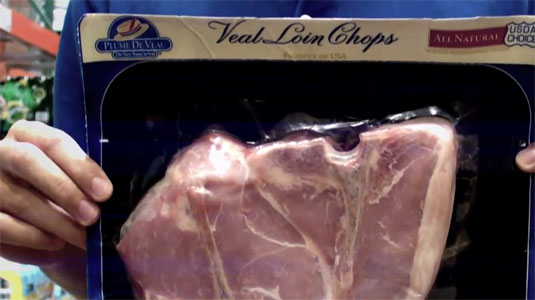 Costco Wholesale Corporation is actually a pretty stand-up company.  One of their policies is that all suppliers must humanely treat animals.  Mercy for Animals just released a video showing horrible treatment of veal calves at one of the farms that Costco's suppliers use.  Once Costco found out about this and saw the video they immediately released a statement, saying how disappointed they were.  CEO Jim Senegal said,
"We're telling them flat-out that it's not acceptable to us, and we will not accept any veal from those farms, period. They're going to have to go by our guidelines and policy, regardless of whether that's considered normal practice. It's not for us, and that might sound arrogant, but we just don't think that's the way to treat an animal."
The veal is sold in some East Coast stores, and is not sold in the Pacific Northwest.  It is labeled under the brand Plume de Veau and supplied by a company called Atlantic Veal and Lamb of New York.  Costco will not be stopping shipments of the product, but has tightened their policies.  It will be interesting to see what happens with all this.  More info is available at the Seattle Times.  The video is below, produced by Mercy for Animals.  Note: the video is very graphic.
The YouTube link has been removed due to its graphic nature.