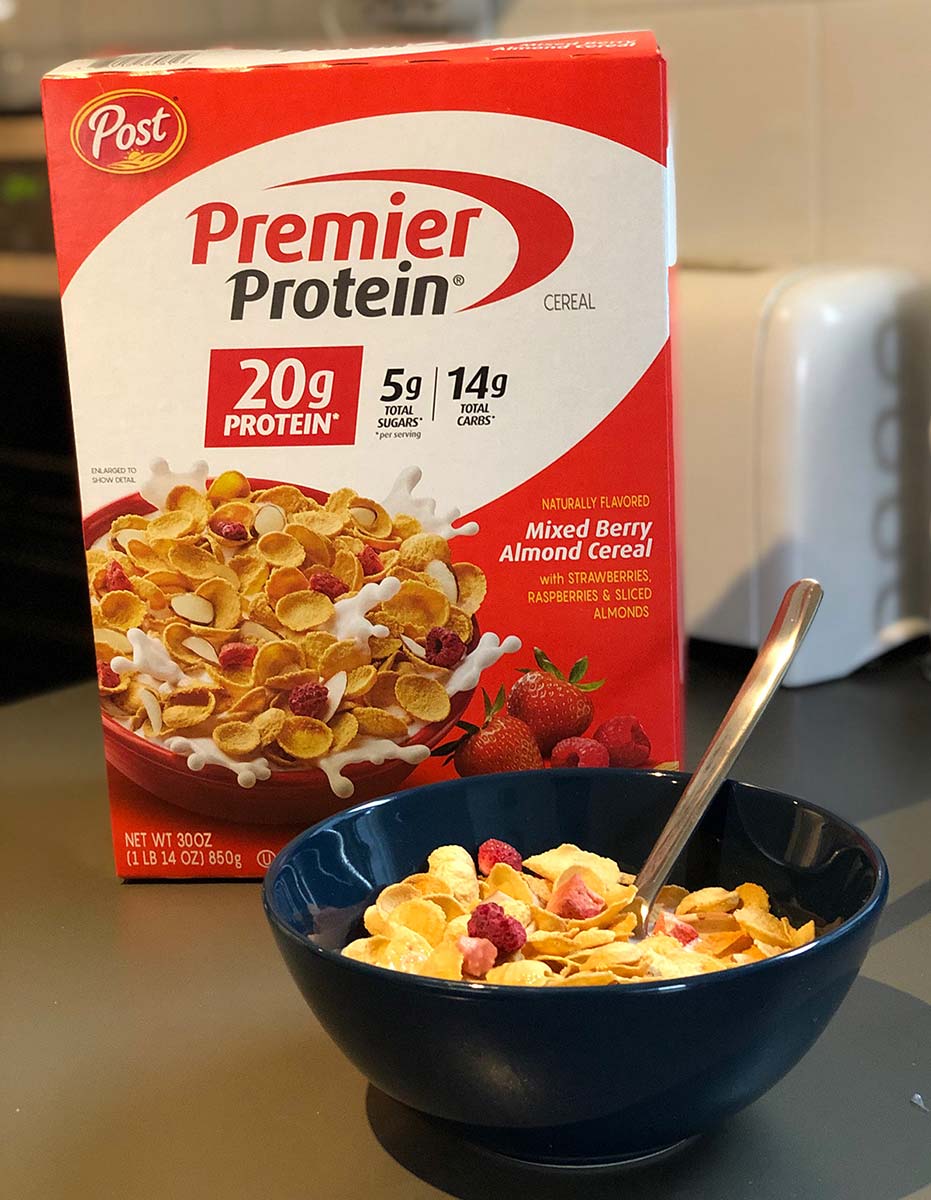 Our love for Premier Protein has been well documented on this site, and as usual we picked up a case on our last visit to Costco. What we didn't expect was to see that familiar red logo again while strolling the cereal aisle. Turns out, Premier Protein has been making moves to monopolize our breakfast diet and recently released a new cereal in collaboration with Post.
Post Premier Protein Mixed Berry Almond cereal is currently an exclusive to our favorite store and comes in a Costco-standard 30-ounce box with two bags inside. As you know, protein packed food and drink often carry a higher price tag, so we were relieved to see the large box was only $12.99. The big red packaging piqued the interest of the kids as soon as we got home, but we managed to hold out to the next morning before cracking it open.
Our first bowl was a great success. The cereal pours easily with a lovely fragrance, and features pops of red berries and thin slivers of almonds mixed into a base of crunchy flakes. The dehydrated strawberries and raspberries layer in a bit of variety in texture while the almonds almost invisibly add some chew.
We're a big cereal household, and at this point we've tried all the "healthy" options. It's usually pretty easy to spot where they've skimped, but we didn't notice that at all in this case. The berries and flakes are tasty enough together that it doesn't feel discounted on flavor. And it's substantial enough to fill you up without getting soggy too quickly. Importantly, the end of the bowl leaves you with some lightly berry-tinged milk, almost like a mini strawberry shake.
When we finally got around to inspecting the health claims we were surprised. There's only 5g of total sugars and 14g of carbs per serving and is way up there in available protein content available among cereals, with 20g of protein each bowl. That's twice as much protein as you'll find in most alternatives. Honestly, it feels like an easy fit with the healthy lifestyle goals we've laid out for the year ahead.
If you're an early fan and just can't get enough of the cereal, their website has a series of recipes as well, including protein bites and cookies to take on the go and a parfait to top off your at-home weekend brunch.
We usually go 2% with our cereal, but in the future we might consider spiking it with one of Premier Protein's shakes as well, double dipping for some extra protein and healthy goodness.
The cereal just hit shelves at the beginning of the year and will be trialed in 372 stores in the Northeast, Northwest, Southeast, Texas, Los Angeles and San Diego regions until the end of February. Try and buy a second box if you like it; if all goes well Costco will be rolling it out nationwide later in the year.