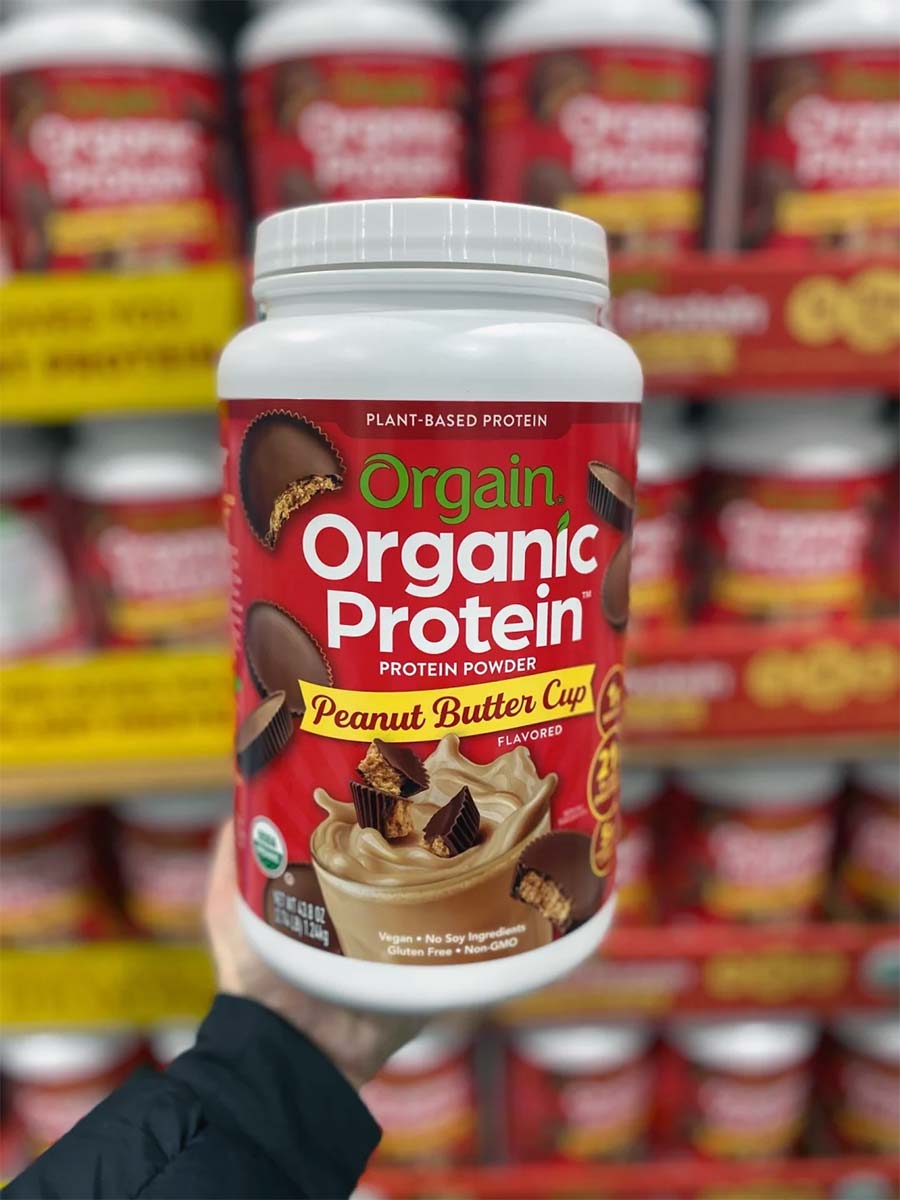 If you are a regular Costco customer, you have probably seen many Orgain products that fill the shelves. They have so many flavors and styles to choose from when it comes to plant-based protein. When they reached out to us again and asked us to review this Peanut Butter Cup flavor, we didn't hesitate. Not only is this a company we have come to know and love for what they represent, but their products are truly healthy and delicious and fit for the whole family!
We are big fans of peanut butter cups around here, so we were excited to try this flavor. It absolutely lived up to our hopes and expectations, and we love how easily we were able to incorporate it into our daily routine.
Even when just adding water and stirring it up, the flavor is smooth and satisfying. It doesn't taste too rich like a dessert, and it has the delicious post-workout, middle of the day pick-me-up flavor you want.
Now don't get us wrong, we love dessert around here. So when we wanted a slightly richer flavor to curb that sweet craving, we had multiple options. We tried just mixing the powder with whole milk for us and the kiddos, which everyone loved. We also blended it with milk and ice and threw in some chocolate chips for a decadent treat the whole family enjoyed.
We found ourselves packing a portion in our gym bag, and adding it to our shaker bottle post-workout for a great way to get more much needed protein in our daily food intake. It's also a great after school snack for the kids and fills them up until dinner without extra grazing all afternoon.
With just 1g of sugar, 21g of plant protein, and 5g of prebiotics and fiber, this powder packs a powerful punch! Certified USDA Organic, it is also vegan without any soy ingredients, gluten free, and non-GMO. Not only can this powder be used in lots of shake varieties, but it can also be added to pancake mix, muffins, cookies, and even heated up for a warm winter evening treat.
During treatment for a cancer diagnosis, Orgain Founder Andrew realized there was a great need for clean AND delicious health food, and he set out to create it himself. As a result, Orgain products guarantee three things: clean nutrition, delicious taste, and high quality ingredients.
It is personally so refreshing to find delicious high protein options while also being able to pronounce and recognize the ingredients used. That feels like quite a challenge these days with the food choices on the market. These are companies and missions we love to support!
The New Year is a great time to make sustainable and simple changes to your daily routine that will make big changes in your health! And it's a major bonus when these changes taste good too! Try it for yourself, take advantage of the sale, and feel the difference!