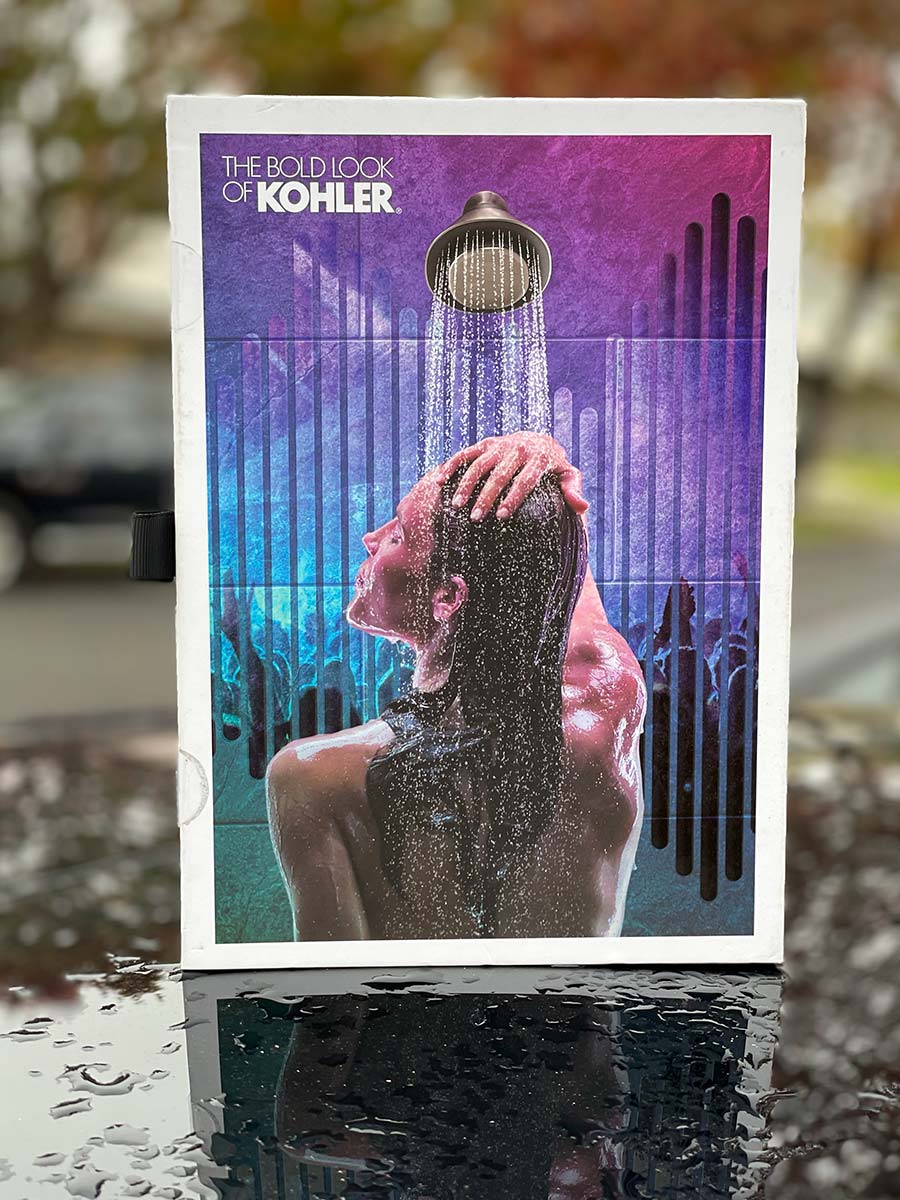 With the Kohler Moxie Showerhead and Bluetooth Speaker on sale for $40 off during the Costco Black Friday Ad we had to pick one up and review it. That's 20% off the regular price! The sale ends next week on November 19th, so make sure to read our review now and get one before it's too late!
Working from home this year has been great. Gone the days of getting stuck in morning traffic, but with all that me-time out the window we're hopelessly behind on our podcasts and audiobooks. Luckily, here comes the Kohler Moxie speaker-showerhead to help keep our brains up to speed as we get our days started. Kohler is constantly innovating and coming out with new products, and this is the latest and greatest example.
Let's start with the design and aesthetics. The Moxie experience starts from the moment you get the box in your hands. The speaker comes in a substantial-feeling white box emblazoned with a high-resolution technicolor photo on the front, and unboxing it feels like opening a high-end phone.
Included inside is the showerhead, speaker, a charging dock, a charging cable and some handy plumbing tape. Note that the shower arm isn't included—keep your old one hooked in or bring home a new one to match the Moxie's brushed nickel finish. Installation is straightforward, and we got it done quickly without needing any special tools or outside help.
Technical setup is similarly easy. The speaker connects to your phone via Bluetooth, and even with multiple people in our house jumping on and off the connection we never found ourselves getting in each other's way.
The Moxie sounds fantastic, with the Harman/Kardon internals living up to its premium brand name and "best in class" promise. A specific shower-optimized acoustic profile is available, and the speaker offers plenty of volume and a wide dynamic audio range that easily handles everything from morning news podcasts to bass-heavy rap to classical symphonies featuring delicate string melodies. We can also personally verify that it makes you sound *that much* better while singing in the shower.
The showerhead itself provided a strong, steady flow of water through multi-directional nozzles, pumping out a luxurious 1.75 gallons per minute. Clicky buttons provided a reassuring tactile experience and you can rotate the unit to raise or lower it by a few inches.
The speaker itself is waterproof, with a robust IPX-7 rating, and a sturdy magnet-enabled mount makes it easy to remove and charge the central unit. You can even take the speaker out and bring with you if you're in need of some beats on the go. Kohler advertises up to nine hours of playback at a time, which seemed to match our experience.
One thing we kept coming back to was the look: our eyes were drawn to it every time we entered the bathroom. Like all Kohler products, the Moxie is exquisitely crafted, and the partnership here with Harman/Kardon is perfect—both companies are known for making beautiful objects. The speaker grille nests seamlessly within the rings of water jets, and the integrated two-piece design adds an air of sophistication.
After using the Kohler Moxie for a couple days we are very happy we picked it up in the Costco sale and highly recommend it. If you've already got one, you might consider sharing the love… the holidays are just around the corner!