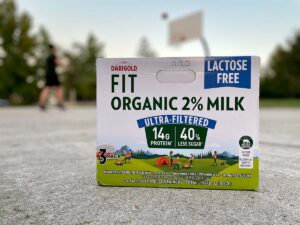 Costco's always great, but we love it even more when it gets us access to some exclusive goodies. Darigold FIT organic milk is the latest and greatest example. It's just launched in 20 select stores in Oregon and Washington, with a national rollout coming soon.
To be honest, we've never thought too much about our milk. It's a staple in our home, something to enjoy at breakfast and maybe in the evening with some after-dinner chocolate chip cookies. Good thing then that Darigold's been hard at work on this front.
The dairy cooperative is pushing the boundaries of innovation with their FIT milk line, which includes chocolate, whole, 2% and an organic variety that's only available at Costco. Using an ultra-filtration process, it's lactose-free and contains 75% more protein (14g per cup) and 40% less sugar than regular 2% milk. In short, it concentrates the good stuff and lets you get away with a couple more late night monster cookies. Perfect for a family trying to shift towards a healthier daily diet.
We were especially enticed with the organic angle—not only for its Costco exclusivity but because Darigold was so clear and transparent about its process. The product is certified by Oregon Tilth, and the company's production is entirely free of artificial growth hormones.
The overall pitch was probably enough for us to give it a try, but if you're not convinced, head out for some free tasters at Costco. We all know that samples have been in short supply in 2020, but don't worry, you'll be fully taken care of with sealed, single-serving bottles heading out to product demos happening through November.
Now on to the meat of it—how's the milk? It comes in a familiar blue-and-white carton, with all its benefits smartly marked in that signature Darigold font. On opening, it poured smooth and straight into a bowl of our family's favorite cereal. The verdict? Unanimous from all four of us. It's rich, creamy and silky, with no less taste or texture but added nutritional benefit. A healthy, protein-packed product we don't even have to sneak past the kids.
My partner and I then frothed some up for our morning lattes, and honestly, we loved it. It foamed up great and tasted wonderful. We didn't feel like we were giving up anything at all, unlike so many other "health-plus" versions of products we've tried recently. We've even baked cakes and mac and cheese with it with great results. It's really hard to notice the difference in taste, if there is one at all.
The whole thing got us looking more into Darigold, and the more we looked into it the more we were impressed. Formed in 1918, as a Northwest Dairy cooperative, the brand is now one of the biggest dairy producers in America, annually producing 9 billion pounds of milk alongside a wide variety of top-quality products, from milk to butter to sour cream and cottage cheese. The cooperative structure helps each family-owned farm retain its independence while giving it access to distribution throughout the Northwest, and gives shoppers a chance to easily and consistently support local products. It even has a goal of becoming carbon-neutral by 2050.
Darigold FIT organic milk has just launched at the following stores, but don't worry—it'll be launching nationwide in short time.
Oregon Locations:
Aloha, OR
Hillsboro, OR
Portland, OR
Salem, OR
Tigard, OR
Washington Locations:
Aurora Village, WA
Bonney Lake, WA
Burlington, WA
Everett, WA
Federal Way, WA
Issaquah, WA
Kirkland, WA
Lynwood, WA
Puyallup, WA
Redmond, WA
Seattle, WA
Southcenter, WA
Tacoma, WA
Tumwater, WA
Woodinville, WA