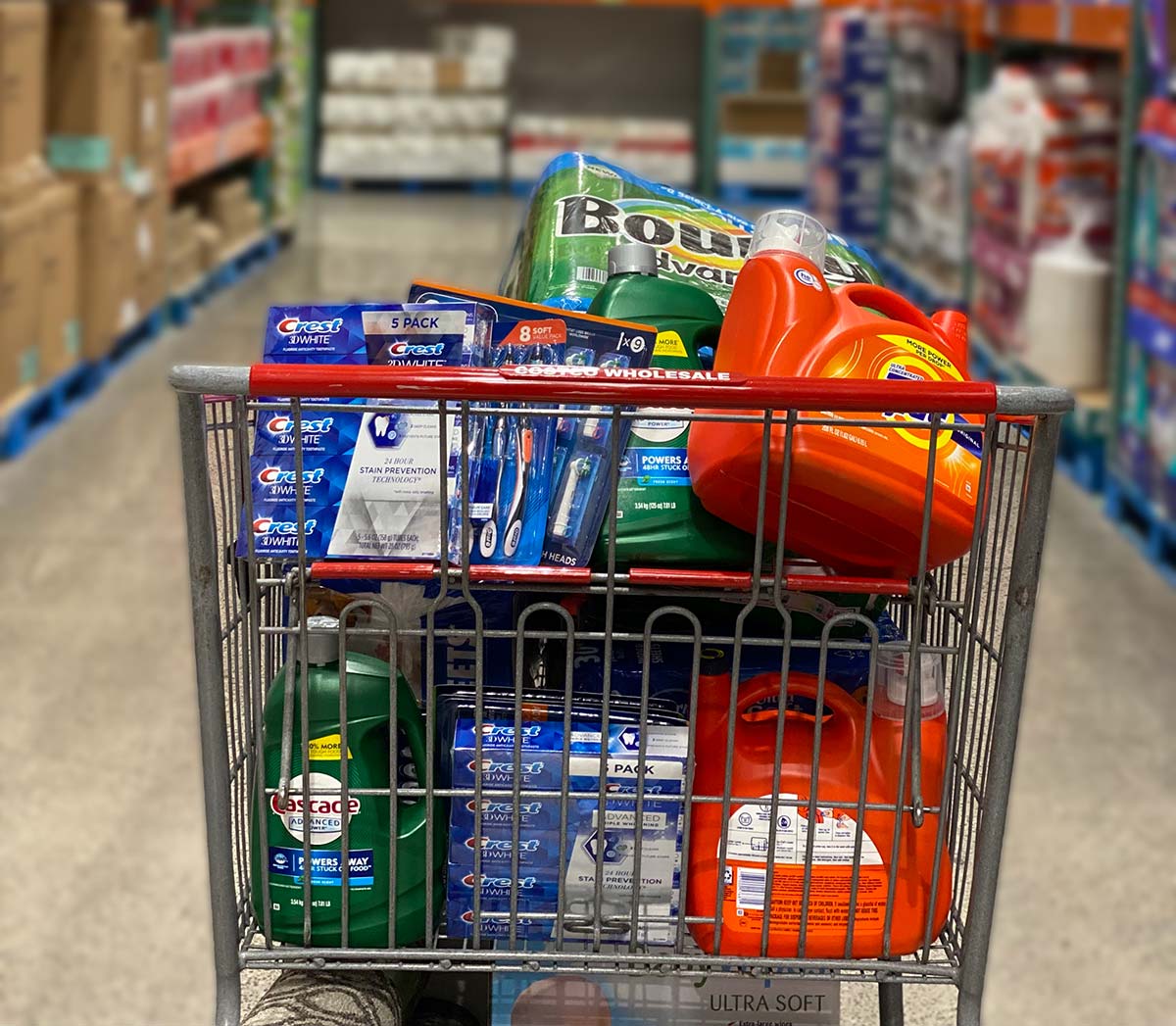 Did you know there's a Procter and Gamble deal going on right now? Spend $100 on qualifying products this month at Costco and get a $25 Costco Shop Card. We broke down all the details you need to know in our post, "Costco P&G Spend $100 Get $25 Deal". Take a look at that article for each of the brands participating, as well as how to take full advantage of this amazing deal.
At first glance, you might think spending $100 on P&G products over a month seems like a lot. Remember how every trip at Costco ends up being well over $100? Turns out after thinking through it, it's pretty easy to meet the spending requirement and get the $25 Costco Shop Card! In total there are 27 different brands of P&G products that are participating. On top of that, we're counting at least 79 products that are included in this deal.
Do you buy Align Probiotics? That's $55 towards the $100 right there. What about Olay Regenerist? That's another $47 towards your goal. Gillete ProGlide Cartridge Refills are $48. Replacement Toothbrush heads can run you $50. What about teeth whitening? The Crest Whitening Emulsions Leave-On Teeth Whitening Set is $65.
Knowing we wanted to take advantage of this smoking hot deal, we walked around our house and took note of what P&G items we regularly use. This is the list we came up with:
Tide Pods HE Laundry Detergent Pods $35.49
Bounce Dryer Sheets $11.49
Cascade Platinum Dishwasher Detergent Actionpacs $17.79
Swiffer Wet Jet Mopping Refill Kit $23.99
Charmin Ultra Soft Bath Tissue $27.99
Bounty Advanced Paper Towels $25.99
Crest 3D White Advanced Triple Whitening Toothpaste $17.49
Crest Pro-Health Advanced Mouthwash $12.49
Gillette Ultimate Protection 6-in-1 Antiperspirant $17.99
Secret Invisible Solid Deodorant Powder Fresh $11.49
Vicks Severe DayQuil and NyQuil Cough, Cold & Flu Relief $18.99
Totaling the list above of regular household items that qualify for this deal, we're at $221.19. We could stock up and buy each of these and get $50 in free Costco Shop Cards! Some things we go through quicker than others, so perhaps we'd buy more than one of the Tide Laundry Detergent or Cascade Dishwasher Detergent. Point is, it's not that hard at all to reach the $100 spend! It can be done over multiple shopping trips, so you should look at your Costco receipts from the last 11 days and see what P&G items you've already bought that qualify. To see the list of eligible items go to https://www.costco.com/pg.html and click through the various categories.
Lastly, do you have a family member that has a hard time getting out of the house? Maybe they are elderly or maybe they have a newborn. Think about a neighbor, a friend, or someone who could benefit from this deal and help do the shopping for them. Give them a call and ask them if they're low on Toothpaste, Shampoo, Laundry Detergent or more and offer to pick it up for them.
Once you've reached the $100 qualifier simply go to GetPGOffer.com and upload your receipts to get your $25 Costco Shop Card! Hope you're able to take advantage of this limited time deal at least once if not twice like us! Purchases must be completed by September 26th.