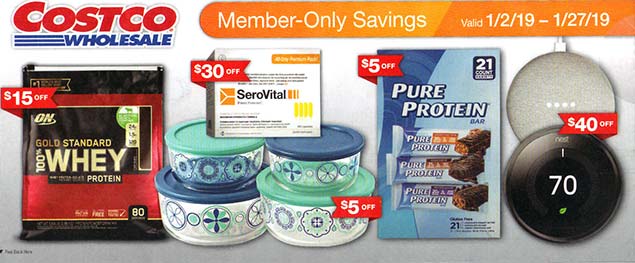 It's hard to imagine with Christmas still yet to come, but today we bring you an advanced view of the Costco January 2019 Coupon Book. The January coupons will run from January 2nd through January 27th. To view the coupon pages click the link above and you will be able to see them as well as click them to enlarge them. The next coupon book will be the February 2019 Coupon book, which starts on February 6th. This coupon book is a little smaller at 23 pages, compared to 27 last month. If you want to see a constantly updated list of all the upcoming coupon book dates take a look at our Upcoming Costco coupon books page. You can sign up for our email list, Like us on Facebook or Instagram if you'd like to be notified the second we post our early looks at the Costco coupon books!
The January 2019 Costco Coupon Book has a few newer items we're looking forward to try as well as some classic staples that you'd expect. We're surprised to see the Nest thermostat in there, but after recently reviewing the ecobee 3 lite thermostat we still would recommend the ecobee over the Nest. In our review is also a section comparing the two, so make sure to check that out. The Apple Watch at $30 off is a great deal (really hard to find discounts on Apple products), and we love ours. As expected, there are a few pieces of workout equipment on sale so you can attack that New Years Resolution of yours. The Costco tire coupon has switched back to Michelin ($70 off) for January.
To see the coupon pages you must be on the Costco January 2019 Coupon Book page and then click on the link in the first sentence. Let us know what you will be picking up in the January coupon book by leaving a comment mentioning the items!