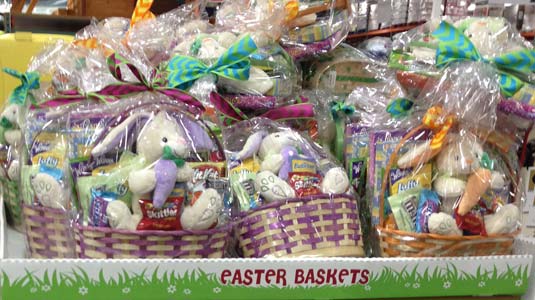 You might not think to get your Easter baskets at Costco, but as always, they have you covered, and at a great price. For only $19.99 you get a large, colorful basket. It is wrapped in cellophane (clear plastic), has a handle on it, and is tied with a bow. The Easter baskets in my store are made by Houdini (Item #722921), weigh 25 ounces, and come in purple, green, and orange. They include the following:
Stuffed bunny holding a carrot
Laffy Taffy
M & M's
Skittles
Snickers
Butterfingers
Kit Kat
Hersheys chocolate
Reeses
Air Heads
Lifesavers Gummies
Welch's fruit snacks
Bottle Caps
A product by Cottage Lane, potentially cookies
Did you pick one up? You think it is a good deal? Remember, Costco is closed for the Easter Holiday on Sunday.