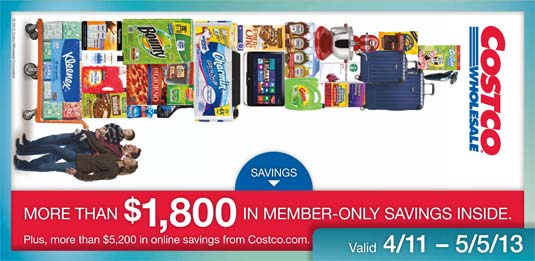 I finally got my hands on the April 2013 Costco coupon book, which runs from April 11th through May 5th. The link above will allow you to view the coupons and download them if you'd like. Unlike the last few coupon books, this one has a week and a half between books, as the March 2013 coupon book ended on March 31st. If you'd like to be notified as soon as deals come up, make sure to subscribe to our email list, like us on Facebook, and follow us on Twitter!
Once again this is not a super exciting coupon book. The most excitement is probably for the Honey Bunches of Oats, at $2 off per box. Also intriguing is the Ricardo 2-pc Hardside spinner luggage set. It is $30 off, making it $99.99 after coupon. Costco has carried Ricardo luggage for a while, and people seemed pleased with past purchases of that brand. As for me, I think I might try the Takeya Drink Maker 2-Pack Pitcher with Fruit/Tea Infuser for $15.99 AC. If you're into Paleo, or just want healthier drink options, it's a good way to have flavored drinks without added sugar. For the second month in a row, the tire coupon is once again Bridgestone. I would expect next month to be Michelin.
Remember, at most locations you can grab a book at your membership counter if you never got it mailed to you and at some locations the cashier will have the coupon there and automatically scan it for you. I  heard they are getting more strict on this though. Perhaps to encourage the new coupon email signup program. These coupons will not work in store, as you need the barcode. Read more to see a list of the items on coupon. Have you tried any of the items in this coupon book? What did you think?
Page 1
$50 off KitchenAid Professional Stand Mixer
$10 off Magic Bullet Deluxe Blender/Mixer System
$30 off FoodSaver Vacuum Sealing System
$80 off Dyson DC25 Ball Bagless Vacuum
$20 off Oral-B Professional Care Advantage Rechargeable Toothbrushes
$7 off Oral-B Replacement Brush Heads 8 pack
$40 off Norelco SensoTouch 3D Razor
$3 off Neutrogena Ultra Sheer Sunscreen
$3 off Neutrogena Fresh Cooling SPF 45
Page 2
Up To $270 off T-Mobile Nexus 4 from Google – 4G, Up to $80 off Verizon DROID RAZR MAXX HD by Motorola, Up To $150 off AT&T Samsung Galaxy S III – Blue, Up To $270 off Sprint Samsung Galaxy Note II – Titanium
$50 off JCV EX310B Digital Camcorder
$200 off Canon 60D 18-200mm Lens Kit
$100 off HP Sleekbook TouchSmart 15.6″ Laptop Computer
$150 off Toshiba Satellite 15.6″ Laptop Computer
$50 off Samsung Galaxy Tab 2 10.1″ Tablet
$30 off Samsung 21.5″ 1080p LED LCD HDTV
Page 3
$109.99 after $60 off HP Photosmart 7525 Wireless Inkjet Printer
Buy Any Two HP Ink Cartridge Packs OR toners GET $20 off Your Total Purchase
$15 off AT&T 4-Handset Phone Model #CL83463
$3 off Fiber One Oats & Chocolate Bars
$2.80 off Fruit by the Foot
$3.50 off Oberto OR Pacific Gold Beef Jerkey
$5 off V8 Vegetable Juice
$2 off Kellogg's Special K with Red Berries
$2.50 off Mary's Gone Crackers
$2 off Honey Bunches of Oats
Page 4
$2 0ff Heinz Picnic Pack
$1.50 off Angie's Sweet & Salty Classic Kettle Corn and/or Boomchickapop Sea Salt Popcorn
$4 off Glaceau Vitaminwater and/or Vitaminwater Zero Variety Packs
Up To $3 off: $3 off Lysol Spray, $2 off Lysol Advanced Toilet Bowl Cleaner and/or Lysol No Mess Automatic Toilet Bowl Cleaner
$3 off Chinet or Diamond Paper Plates
$3.50 off Perrier Sparkling Water
$3.25 off Finish Powerball Tabs and/or Jet Dry
$3.75 off Jerky Treats for Dogs
$2.30 off Ragu Old World Style Pasta Sauce
$3 off Checkups Dental Dog Treats
Page 5
$2.50 off Kirkland Signature Disinfecting Household Wipes
$3.25 off Starbucks Via Instant Coffee
$3 off Hebrew National Beef Franks
$4 off Pierre Signatures Angus Cheeseburgers
$4 off DiGiorno Pizza
$3.75 off Morning Star Chipotle Black Bean Burgers
$3 off El Monterey or Delimex or Don Miguel Chicken AN/OR Beef Taquitos
$2.50 off Pasta Prima Chicken & Mozzarella Ravioli
$3 off Frito Variety Pack
Up To $2 off Mountain Dew and/or Diet Mountain Dew
Page 6
$3 off Air Wick Scented Oils
$6 off 3M 3×3 Post-it Notes
$10 off 8-pc Solar Pathway Light Set
$10 off Stainless Steel 80 Liter/21-Gallon Trash Can
$30 off Hunter West Haven 54″ Ceiling Fan
$7 off Chevron Delo 15W-40 Motor Oil and/or Pro-Gard Fuel Injector Cleaner
$5 off Tramontina Aluminum Saute Pans
$4 off TAKEYA Drink Maker 2-PAck Pitcher with Fruit/Tea Infuser
Page 7
$79.99 after $20 off Bayside Furnishings Metro Mesh Chair
$59.99 after $20 off Brushed Nickel Pull-Out Kitchen Faucet
$120 off Sealy Posturepedic Langley Plush Queen Mattress Set
$4 off Charisma Down Alternative Pillow
$30 off Ricardo 2-pc Hardside Spinner Set
$6 off Zyrtec: 10mg Tablets 100ct, 10mg Liquid Gels 65ct
$2 off L'il Critters Choose From: Fiber Gummy Bears 200ct, Omega-3 Gummy Fish 180ct, Gummy Vites 275ct, Calcium Gummy Bears 200ct
Page 8
$6 off Allegra Allergy Tablets
$2 off Kirkland Signature: Daily Multivitamin 500ct, Mature Adult Multivitamin 400ct, Vitamin E 400 I.U. 500ct, Chewable Vitamin C 500mg 500ct
$5 off Nature's Bounty: Sublingual Vitamin B-12 250ct, Hair Skin And Nails 250ct, Vitamin D3 5000 I.U. 300ct, Ester-C 500mg 300ct
$5 off Osteo Bi-Flex 170ct and/or Nature's Bounty Maximum Strength Fish Oil 1400mg 130ct
$3 off Nature Made: Calcium 750mg with D & K, Fish Oil 1200mg, Vitamin D3 1000 I.U., Organic Flaxseed Oil 1400mg
$5 off Nature Made: Triple Strength Triple Flex, CholestOFF, CholestOFF Plus, Vitamin C 500mg
$3 off Kirkland Signature: Aller-Tec, Aller-Tec Children's Syrup, AllerClear
$6 off Kirkland Signature Aller-Fex 180mg Tablets and/or Phillips Colon Health 90ct
Page 9
$4 off Zantac Tablets 150mg and/or Dulcolax Laxative Tablets
$5.50 off Claritin or MiraLAX
$4 off Zipfizz Variety Pack
$15 off Alli Orlistat
$2 Salonpas Pain Relieving Patch
$3 off Green Tea Fat Burner
$4 off Focus Factor, Natrol 5-HTP or TruNature Grape Seed with Reservatrol
$2 off Kirkland Signature: Acetaminophen 500mg Rapid Release Gelcaps, Acetaminophen PM 500mg Capsules, Mucus Relief Tablets
Page 10
$70 off Any Set of 4 Bridgestone Tires
$2 off Welch's White Grape Cherry Juice
$4.50 off Starbucks French Roast Whole Bean Coffee
$2 off Charmin Ultra Bath Tissue
$2 off Bounty Roll Towels
$3.75 off Kleenex Family and/or Ultra Soft
Page 11
$2.75 off Kirkland Signature Liquid Laundry Detergent or Laundry Pacs
$2.75 off Kirkland Signature Drawstring Trash Bags
$2.50 off Gain Liquid or Powder Laundry Detergent
$2 off Cascade Advanced Power: Gel OR Powder
$2.25 off Kirkland Signature Clear Cutlery
$4 off OxiClean Versatile Stain Remover
$1.50 off Febreze Air Effects and/or Febreze Fabric Refresher
$10 off Iams Dog Food
$2.25 Yoplait Go-Gurt Simple
Page 12
$2 off Pantene Shampoo and/or Conditioner
$8.50 off Depend Adult Underwear
Buy Gillette Fusion ProGlide Blades and Gillette Comfort Advantage Shave Gel GET $8.99 off your Total Purchase
$3 off Degree Antiperspirant and/or Dove Antiperspirant
$3 off Neutrogena Makeup Remover Towelettes
$4 off Neutrogena Rainbath
$3 off Olay Ultra Moisture Body Wash
$3 off Olay Ultra Moisture Bar Soap
$4 off Lubriderm Daily Moisturizer
Page 13
$4 off Colgate Total Advanced Whitening Toothpaste
$4 off Oral-B Advantage CrissCross Toothbrushes
$2.50 off Crest Pro-Health Rinse
$7 off ROC Gold Correxion Day and/or Night Facial Moisturizer
$12 off Nicorette or Nicoderm
Buy One Pair of eyeglasses and get $30 off each additional pair for the same individual
Page 14
$300 off Everton 8′ x 12′ Wood Storage Shed
$200 off BIGHORN 19ECB Safe
$300 off Niko 6-Piece Deep Seating Modular Sectional by Sirio
$799.99 after $200 off Portofino Signature Patio Resort Umbrella
Page 15
$1199.99 after $300 off HP TouchSmart 23″ All-in-One Computer with Blu-Ray
$699.99 after $150 off Toshiba S875 17.3″ Laptop Computer
$599.99 after $100 off Dell Inspiron 15R Laptop
Up To $500 off Select Kid's Creations, YardLine and Gorilla Playsets
$1499.99 after $400 off Portofino Signature 7-Piece Patio Dining Set
$249.99 after $50 off Singer Superb 2010 CL Sewing Machine
$100 off First Alert Digital Waterproof Fire-Resistant Safe
20% off SunSetter EasyShades
Page 16
Up To $1,000 off Select Aquaterra Spas and Evolution Spas
$1699.99 after $500 off Florentine 3-Piece Top Grain Leather Set
$1599.99 after $300 off Caprice 5-Piece Queen Bedroom Set
$74.99 after $25 off Coleman Premium Double-High QuickBed Air Bed
$599.99 after $100 off Belize Bonded Leather Black Euro Lounger
$399.99 after $100 off Blueair HEPASilent 455EB Air Purifier
Up to $30 off Indoor-Outdoor Rugs
$400 off Maytag Maxima XL Steam Laundry Suite