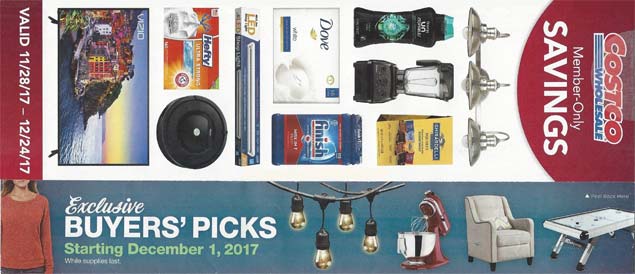 We now have the upcoming December 2017 Costco Coupon Book online for you to take a look at. The coupons run from November 28th through December 24th (Christmas Eve). To see the coupon book you need to click the link above, which will take you to it so you can look and print if you'd like. It's rather small at 17 pages, but it definitely has some interesting items. If you want to get an email as soon as we post the latest coupons you can sign up for our email list, or Like us on Facebook!
The December 2017 Costco coupon book doesn't have too many items of note. One of the bigger standouts is the Mini Crab Cakes, which a lot of people have raved about. We haven't tried them, but we might have to with almost $6 off. Besides that, there a lot of fans of Nutella out there that would love $3.50 off. Kirkland Signature Panko Breaded Shrimp is a good deal at $3 off, great for the Holiday parties you'll be throwing. Lastly, the Duracell batteries don't go on sale very often, so $3 off makes them a good buy. As for us, there likely isn't anything on coupon we'll pick it up. The tire coupon is surprisingly Bridgestone for the third month in a row!
If you're wondering why you're not seeing the December 2017 Costco Coupon Book then go to the top of the page and click on the link in the very first sentence. This will bring you right to the images of the coupons. Which items pique your interest for the upcoming month?