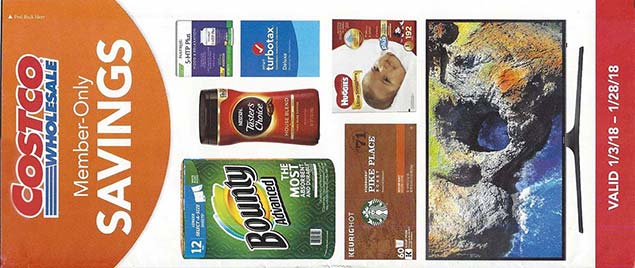 The January 2018 Costco Coupon Book is now online so that you may peruse as you desire. The dates for these coupons run from January 3rd through January 28th. In order to be taken to the images of the coupon book you must click the link above, where you can view it and print if you'd like. Almost universally across all Costcos you don't need the actual coupon in hand, they'll automatically apply the discount at the register. This coupon book is 23 pages, but it also has a few more featured items with full page ads. If you want to get an email as soon as we post the latest coupons you can sign up for our email list, or Like us on Facebook!
As is usually the case with the Costco coupon books, the January 2018 coupon book definitely has a few interesting items. First of all, it's very interesting to see Costco carry more LG OLED TV's, which has in the past been pretty scarce. Unfortunately the sale price is actually higher than some of their competitors. With the Super Bowl coming up you would think there'd be more TV's in the coupon book. Another interesting item includes the Pork Loin Chops, which has a lot of fans around the country. The Kodiak Pancake Mix gets a lot of rave reviews, so we'd recommend you give it a shot. Cellucor C4 Pre-Workout is another hot buy that doesn't go on sale too often and at $12.50 off their already low prices you really can't go wrong. Finally, the tire coupon has switched back to Michelin. Look for the $0.01 install sale going on right now for Costco Tires as well.
Still looking for the January 2018 Costco Coupon Book? Click the link in the first sentence when you're on the post page and you'll be taken right to them. What are your takes on the January Coupons? Which items will you be picking up non your next trip?