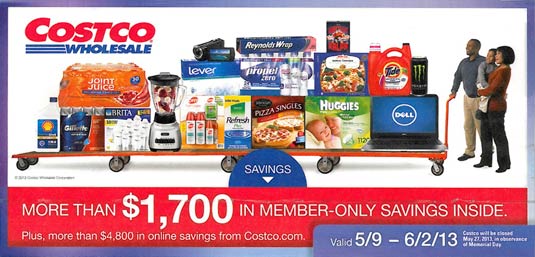 Although a little late, here is the May 2013 Costco coupon book. Clicking the link will allow you to view or download the coupons, which run from May 9th to June 2nd. The April 2013 coupon book just ended on Sunday and this one begins only four days later. There are only three pages of coupons requiring barcodes, as the rest are instant. If you'd like to be notified as soon as deals come up, make sure to subscribe to our email list, like us on Facebook, and follow us on Twitter!
I would say the response to this coupon book has been underwhelming. People are curious about the Simpson pressure washer but that's about it. The Coppertone sun screen is a good deal for the upcoming summer, as well as the Off! Insect Repellant and the Chlorine tabs. There is some excitement about the Huggies Diapers, which do not go on sale very often, and could be a good opportunity to stock up. The Samsung 55″ LED HDTV is $799 AC, which is a great deal for a 55″ TV. The HTC One phone is very popular right now, and it's a pretty good deal at $129 AC. As for myself, I might pick up the Coppertone Sport, but that's probably it. The tire coupon is now back to Michelin.
Remember, at most locations you can grab a book at your membership counter if you never got it mailed to you and at some locations the cashier will have the coupon there and automatically scan it for you. I  heard they are getting more strict on this though. Perhaps to encourage the new coupon email signup program. These coupons will not work in store, as you need the barcode. Read more to see a list of the items on coupon. Have you tried any of the items in this coupon book? What did you think?
Page 1
$40 off Simpson 3000 PSI Honda-Powered Gas Pressure Washer
$30 off Samsonite 2-Piece Lightweight 4-Wheel Spinner Luggage Set
$70 off Panasonic ZS25 20x Digital Camera
$100 off Sony HDR-CX380 Digital Camcorder
$150 off HP Envy 17.3″ Laptop with beats audio
$130 off HP 14″ Touchscreen Sleekbook
$40 off HP Officejet Pro 8600 All-In-One
$200 off Samsung 55″ Class 1080p LED LCD HDTV
$100 off VIZIO 65″ Class 1080p Smart LED LCD HDTV
Up to $40 off Simplicity Flat-Panel TV Wall Mounts
Page 2
Up to $160 off Verizon DROID RAZR HD by MOTOROLA, Up to $150 off AT&T HTC One, Up to $150 off Sprint HTC One
$15 off AT&T 3-Handset Phone DECT 6.0 CL82353
$20 off WD My Passport 2TB Portable Hard Drive
$30 off Garmin 5″ GPS
$50 off De'Longhi 12.5K BTU Portable Air Conditioner
$2 off Food Should Taste Good Tortilla Chips
$3.40 off Kellogg's Nutri-Grain Cereal Bars
Buy One Get One Free Kellogg's Right Bites 100 Calorie Portions
Page 3
 $4 off V8 V-Fusion Variety Pack
$2 off Nestle Nesquik Chocolate Powder
$4 off Splenda Sweetener
$2 off Nabisco Wheat Thins
$2 off Cheez-It Crackers
$4 off Monster Energy Drink
$3 off Starbucks Frappuccino
$2.50 off Gatorade Variety Pack
$1.50 off Vanity Fair Napkins
$3.25 off Reynolds Wrap Aluminum Foil Standard AND/OR Heavy Duty
Page 4
 $2.50 off Scotch-Brite Sponges
$4 off Arm & Hammer OxiClean Max Liquid Detergent
$2.50 off Clorox Automatic Toilet Bowl Cleaner AND/OR Clorox Disinfecting Wipes
$2.50 off Windex Advanced
$2.50 off Pledge AND/OR Scrubbing Bubbles Bathroom Cleaner
$2.50 off Drano Ultra AND/OR Shout Stain Remover
$2.50 off Dannon Light & Fit Greek Yogurt
$3 off Magnum Double Caramel Ice Cream Bar
$2.75 off Sabatasso's Pizza Singles Variety Pack
$2.50 off Crazy Cuisine Teriyaki Chicken OR General Tso's Chicken
Page 5
 $2 off Birds Eye Garlic Chicken Meal
$10 off Crest White Strips
$3 off Off! Insect Repellent
$4 off Aquafresh Extreme Clean Toothpaste
$2.50 off Scotch Precision Ultra Edge 8″ Scissors
$10 off Waterpik Chrome Hand-Held Showerhead
$5 off Ziploc Space Bag Vacuum Seal Bags: $9 off Chevron Supreme AND/OR Formula Shell Motor Oil
$5 off Arctic Zone 50-Can Table Top Cooler
Up To $10 off Aqua Chem 3″ Chlorinating Tabs Plus AND/OR $5 off Aqua Chem Shock Plus
Page 6
 $15.99 after $4 off Bamboo 3-Piece Drawer Organizer
$8 off Brita Monterey Pitcher AND/OR Pitcher Filters
$8 off FoodSaver Heat-Seal Vacuum Bag and Roll Combo
$30 off Sonicare Healthy White UV Rechargeable Toothbrush 2 pk
$7 off Oster Die-Cast Blender
$25 off Philips Norelco Powertouch Shaver with Aquatec
$5 off Starbucks house Blend K-Cup Portion Packs
$6 off Novaform Comfort Curve Memory Foam Bed Pillow
$5 off Disney Animated Movies – DVD
$8 off Disney Animated Movies – Blu-ray
Page 7
 $2.50 off Propel Zero
$2 off Kirkland Signature Tuxedo Chocolate Mousse Cake
$3 off Wipe 'n Clear Lens Wipes AND/OR EcoDrink Multivitamin Powder
$5 off Joint Juice Glucosamine Chondroitin
$3.50 off FiberChoice Sugar-Free Assorted Fruit, Beano Tablets, Kirkland Signature Lansoprazole
$5 off Joint Movement Glucosamine
$3 off Refresh Plus AND/OR Refresh Tears
$7 off Estroven Maximum Strength AND/OR Culturelle Digestive Health Probiotic
$3.50 off Citrucel Sugar-Free Powder 42oz, Caplets 240ct, Tums Ultra Berry 265ct, Extra Strength Assorted Fruit 330ct, Breathe Right Extra 44ct, Advanced 44ct
$4 Nature Made Diabetes Health Pack, Vitamin B-12, Magnesium, Folic Acid, Prenatal + DHA
Page 8
 $5 off Bausch & Lomb Chose From: Renu Fresh Multipurpose Solution, Biotrue Multi-Purpose Solution, PreserVision, PreserVision with Lutein, Ocuvite
$10 off Nature Made SAM-e Complete AND/OR Coenzyme Q10
$7 off Qunol Liquid CoQ10 AND/OR Qunol Mega CoQ10
$3 off Centrum Multivitamin 365ct + 60ct, Silver 285ct, Caltrate 600mg 320ct
$3.50 off Excedrin Extra Strength Caplets, Migraine Tablets, Gas-X Softgels, Prevacid
$3 off Vitafusion Calcium Gummies, MultiVites, Fiber Well Gummies
$3 off Advil 200mg Liqui-Gels 240ct, 200mg Tablets 360ct, PM Caplets 180ct, ThermaCare HeatWraps Back 6ct, HeatWraps Neck 9ct
$2.50 off Kirkland Signature Daily Multivitamin Pack, Performance Multivitamin, Fish Oil, Calcium Citrate, Calcium Chews
$70 Off Any Set of 4 Michelin Tires
Page 9
 Buy Two Boxes of Cheerios AND/OR Reese's Puffs Get $4 off Total Purchase
$3 off Brawny Mega Pick-A-Size
$2.25 off Kirkland Signature Upright AND/OR Lodge Pack Facial Tissue
$2 off Dixie Ultra Plates
$2 off Kirkland Signature Liquid Fabric Softener OR Fabric Softener Sheets, $2.50 Off ANY Tide Liquid OR Powder Laundry Detergent
$2.50 off Cascade Action Pacs OR $3 off Cascade Complete Action Pacs
$3 off Swiffer Dusters, Wet Cloths, Dry Cloths AND/OR Starter Kit
$2 off Dawn Advanced Power
$2 off Ziploc Freezer Gallon, Freezer Quart AND/OR Storage Combo Bags
Page 10
$3.25 off Kraft American Singles
$3 off Tony Roma's OR Curly's Baby Back Pork Ribs
Buy Gillette Fusion Cartridges 16pk AND Gillette Comfort Advantage Shave Gel Get $8.99 off Your Total Purchase
$5.50 off Gillette Venus Disposable AND/OR Gillette Mach 3 Disposable Razors
$3.50 off Dove Bar Soap
$2 off Lever 2000 Bar Soap
$27 off StriVectin-SD Cream
$5 off Premier Protein Shakes
$6 off Huggies Diapers
$5 off Huggies Baby Wipes
Page 11
$3.50 off Aveeno Lotion
$5 off Coppertone Sport SPF 30
$2 off Head & Shoulders Classic Clean AND/OR Green Apple
$5 off Prilosec OTC Tablets, ZzzQuil, Align Daily Probiotic
Buy One Pair of Eyeglasses And Get $30 off Each Additional Pair For Same Individual
$25 off ACUVUE Choose From 2 Boxes of ACUVUE OASYS 24pk OR 8 Boxes of Acuvue OASYS, Acuvue OASYS for Astigmatism, Acuvue OASYS for Presbyopia
Page 12
$149.99 after $50 off SafeRacks 4'x 8′ Overhead Garage Storage Rack
$399.99 after $300 off Q-See 16-Channel DVR Surveillance System with 8 High-Resolution 600 TVL Cameras
Up To $600 off Lifetime Double Slide Deluxe Playset or 10′ Metal Swing Set
Up To $350 off SunSetter Oasis Freestanding Awning
Page 13
 $799.99 after $250 off HP EVNY dv6t Laptop Computer
$799.99 after $200 off HP ENVY H8 Desktop Computer with 27″ LED Monitor
$699.99 after $100 off Dell Inspiron 15R Touch Screen Laptop Computer
$1999.99 after $400 off Newport 7-Piece Deep Seating Set by Mission Hills
Up To $500 off Select Vinotemp Wine Cellars
$469.99 after $80 off De-Longhi Pinguino 14,000-BTU Portable Room Air Conditioner/Heater/Dehumidifier/Purifying Fan
$200 off Moderno 6-Piece Deep Seating Set
$25 off Fujitsu ScanSnap iX500 COmpact Color Duplex Scanner Bundle for PC
Page 14
$200 off Portofino Signature Lounger 4-Pack
$100 off Brunswick XC3 Table Tennis Table
$1999.99 after $400 off Lifetime Camping Tent Trailer
$99.99 after $30 off Coleman 6-Person Instant Tent
$300 off San Paulo 5-Piece Dining Set
$189.99 after $100 off Canon imageCLASS MF4890dw Black and White Laser Multifunction Printer
$199.99 after $70 off Wire-free Video Monitoring System Bundle
Costco.com Copy and Print Paper: Save $6 per case when purchasing 6+ Cases