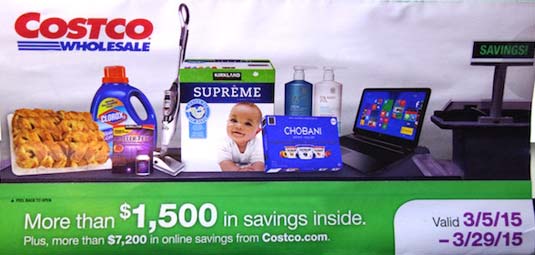 Just released is the March 2015 Costco Coupon Book. It will run from March 5th through March 29th. Clicking the link above will allow you to view, download, or print out the coupons. The reason there was a week break between the February coupon book and the March coupon book is that Costco likes the coupons to lineup with the months. The April coupon book will start April 9th. We post the ad early so that you can wait to buy items that will be on sale and you can plan your next shopping trip a little better. This is one of the longer Costco flyers at 17 pages long. If you want to be the first one to find out when we post the latest coupon book please subscribe to our email list, like us on Facebook, and follow us on Twitter!
There are quite a few interesting items in the March coupon book. First of all, there's the Kirkland Signature diapers, which don't go on sale very often. Another item that rarely gets discounted is the Honey Bunches of Oats. The Braun shaver is one of the best you can buy. It seems like every month there is one deli entree on coupon and this month that is the ravioli lasagna, which has been discounted once before. In my opinion it's worth getting, although a little salty. As for myself, I likely won't pickup anything. Also worth noting is that Chobani greek yogurt is on sale, which I'm excited about because my store hasn't carried it in a while. The tire coupon is back to Bridgestone for this month and April.
Do you like these Costco coupons? Any must buy items I didn't mention? Read more below to see a list of items in the coupon book with their final prices.
Best Foods Mayonnaise 64 oz $7.59
Instant Savings: -$2, Limit 5
Final Price: $5.59
Chobani Greek Yogurt Variety Pack 15/6 oz $13.49
Instant Savings: -$3.50, Limit 3
Final Price: $9.99
General Mills Honey Nut Chex Cereal 2/20 oz $7.49
Instant Savings: -$2.30, Limit 4
Final Price: $5.19
Hidden Valley Ranch 2/40 oz $9.99
Instant Savings: -$2.30, Limit 3
Final Price: $7.69
Honey Bunches of Oats 48 oz $6.29
Instant Savings: -$2, No Limit
Final Price: $4.29
Kellogg's Rice Krispies Treats 54 ct $10.99
Instant Savings: -$3, Limit 2
Final Price: $7.99
Kirkland Signature Braided Apple Strudel 8 ct $7.99
Instant Savings: -$1.50, No Limit
Final Price: $6.49
Kirkland Signature Lobster Bisque 2/20 oz $10.99
Instant Savings: -$2.75, No Limit
Final Price: $8.24
Marie Callender's Chicken Pot Pies 8 ct $11.39
Instant Savings: -$3, No Limit
Final Price: $8.39
Pirate's Booty 16 oz $4.99
Instant Savings: -$1.80, No Limit
Final Price: $3.19
Ritz Crackers 56.5 oz $7.99
Instant Savings: -$2, Limit 5
Final Price: $5.99
Skinny Cow Ice Cream Sandwiches 20/4 oz $9.79
Instant Savings: -$2.80, No Limit
Final Price: $6.99
Trident Seafoods All Natural Ultimate Fish Sticks 4 lbs $11.99
Instant Savings: -$3, No Limit
Final Price: $8.99
Capri Sun 100% Juice Variety Pack 40/6 oz $9.99
Instant Savings: -$2.50, Limit 4
Final Price: $7.49
Dr Pepper &/or Diet Dr Pepper 36/12 oz $9.99 [Some warehouses have the 32 ct (-$2 off) or the 24 ct (-$1.50 off)]
Instant Savings: -$2, Limit 2
Final Price: $7.99
Izze Sparkling Juice Variety Pack 24/8.4 oz $13.69
Instant Savings: -$4, Limit 3
Final Price: $9.69
Kirkland Signature By ITO EN Green Tea Bags 100 ct $13.59
Instant Savings: -$3, Limit 1
Final Price: $10.59
Snapple Tea (Regular or Diet) &/or Juice 24/20 oz $17.89
Instant Savings: -$3.50, Limit 3
Final Price: $14.39
Starbucks Caffè Verona K-Cup Portion Packs 54 ct $34.99
Instant Savings: -$5, Limit 5
Final Price: $29.99
Starbucks Frappuccino 12/9.5 oz $14.59
Instant Savings: -$3, No Limit
Final Price: $11.59
Bissell DeepClean ProHeat 2X Pet Carpet & Upholstery Cleaner $199.99
Instant Savings: -$40, Limit 5
Final Price: $159.99
Brita Monterey Water Pitcher with 2 Filters $29.99
Instant Savings: -$8, Limit 5
Final Price: $21.99
Brita Pitcher Filters 10 ct $39.99
Instant Savings: -$7, Limit 5
Final Price: $32.99
Charisma Bath Mat $13.99
Instant Savings: -$3, Limit 5
Final Price: $10.99
Hansgrohe Cento Kitchen Faucet $259.99
Instant Savings: -$80, No Limit
Final Price: $179.99
Melamine Mixing Bowls $19.99
Instant Savings: -$4, Limit 5
Final Price: $15.99
Shark PRO Steam & Spray Mop $99.99
Instant Savings: -$20, Limit 5
Final Price: $79.99
Shark Rotator Professional Lift-Away Vacuum $199.99
Instant Savings: -$40, Limit 5
Final Price: $159.99
Scoop Away Cat Litter 42 lbs $11.69
Instant Savings: -$2.70, Limit 3
Final Price: $8.99
Arm & Hammer OxiClean Max Liquid Detergent 250 oz (160 loads) $15.79
Instant Savings: -$4, Limit 5
Final Price: $11.79
Clorox 2 Liquid Stain Remover & Color Booster 82 loads $14.76
Instant Savings: -$3, Limit 5
Final Price: $11.76
Palmolive Liquid Dish Soap 90 oz $7.99
Instant Savings: -$2, Limit 2
Final Price: $5.99
Resolve Spray 'n Wash 22 oz + 144 oz Refill $8.49
Instant Savings: -$2.50, Limit 5
Final Price: $5.99
Scotch-Brite Sponges Heavy Duty 21 ct $12.99 &/or
Scotch-Brite Sponges Non-Scratch 18 ct $12.49
Instant Savings: -$2.70, Limit 5
Final Price: $10.29 (Heavy Duty) or $9.79 (Non-Scratch)
Braun Series 7 Shaver $159.99
Instant Savings: -$35, Limit 5
Final Price: $124.90
Irish Spring Bar Soap 20 ct $9.49
Instant Savings: -$2.50, Limit 2
Final Price: $6.99
Nutrisystem $100 Gift Card $79.99
Instant Savings: -$20, No Limit
Final Price: $59.99
Orlando Pita Argan Shampoo &/or Conditioner 27 oz $14.99
Instant Savings: -$5, Limit 2
Final Price: $9.99
Q-tips 3/625 ct $8.99
Instant Savings: -$2, Limit 2
Final Price: $6.99
Sonicare Plaque Control Plus 2 Series Rechargeable Toothbrush 2-pack $99.99
Instant Savings: -$20, Limit 5
Final Price: $79.99
Keds Ladies' Liner Sock 6 pairs $9.99
Instant Savings: -$3, No Limit
Final Price: $6.99
Brother MFC-8810DW Wireless All-In-One Printer $399.99
Instant Savings: -$100, Limit 3
Final Price: $299.99
HP 15.6″ TouchSmart PC with beatsaudio $699.99
Instant Savings: -$100, Limit 5
Final Price: $599.99
HP Envy Chassis Only Desktop PC $699.99
Instant Savings: -$100, Limit 5
Final Price: $599.99
Panasonic 3-Handset Phone KX-TG433SK $49.99
Instant Savings: -$10, Limit 5
Final Price: $39.99
Samsung 55″ Class 4K Ultra HD LED LCD TV
Instant Savings: -$130, Limit 3
Seagate 1.5TB Portable Hard Drive $89.99
Instant Savings: -$20, Limit 5
Final Price: $69.99
Vizio 50″ Class 4K Ultra HD LED LCD TV
Instant Savings: -$130, Limit 3
AT&T  Samsung Galaxy S 5   -$100 off, Limit 5
Sprint  Samsung Galaxy S 5   -$100 off, Limit 5
T-Mobile  Samsung Galaxy Note 4   $0 Down, 24 monthly payments of $31.24, Limit 5
Verizon  Samsung Galaxy S 5   -$100 off, Limit 5
Royal 16-Sheet Cross-Cut Paper Shredder $99.99
Instant Savings: -$20, Limit 4
Final Price: $79.99
Kingsford All Natural Competition Charcoal Briquets 2/18 lb bags $17.49
Instant Savings: -$4.30, Limit 3
Final Price: $13.19
Bridgestone Tires -$70 off any set of 4
Goodyear 4-Piece Carpet/Rubber Car Mat Set $17.99
Instant Savings: -$4, Limit 2
Final Price: $13.99