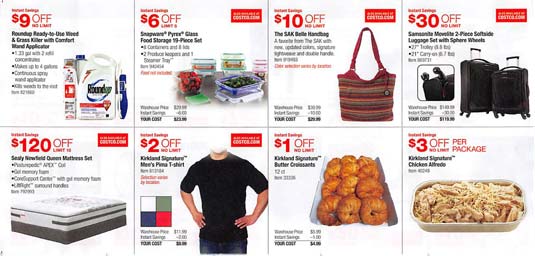 I have now posted the upcoming April 2015 Costco Coupon Book if you would like to get an early look at it. It is valid from April 9th to May 3rd. Clicking the link above will allow you to view, download, or print out the coupons. Once again there was a week break between the March coupon book and the April coupon book. That way the new coupon book will lineup within the month of April a little better. The May coupons will have no break between. If you're looking to go on a shopping trip soon you can plan ahead of time by looking at this ad now, and wait to buy things that will be going on sale soon. Much like last month, this Costco flyer is also 17 pages. If you want to be the first one to find out when we post the latest coupon book please subscribe to our email list, like us on Facebook, and follow us on Twitter!
As usual, there's some interesting items in the April coupon book. The usual deli item in the flyer is the Chicken Alfredo pasta. An item that's likely never been on sale before is the Kirkland Signature Butter Croissants, which make great sandwiches by the way! The Parmesan Reggiano is quite pricey in my opinion, so it's nice to see it at $3 off. One pound would probably last you a while too. I'm most excited about the ZonePerfect Nutrition Bars. They are really tasty and $5 is a big percentage off of the normal price. I'll also be interested in the Ling Ling Potstickers. One item on sale that I highly recommend is the Kirkland Signature Environmentally Responsible Dish Soap. It is the best dish soap I've ever tried. It stays foamy for a really long time, and doesn't require a lot of soap to be effective. The tire coupon is Bridgestone once again, and will switch back to Michelin in May.
What are your thoughts on this months Costco coupons? Which items are you going to buy that were not mentioned?