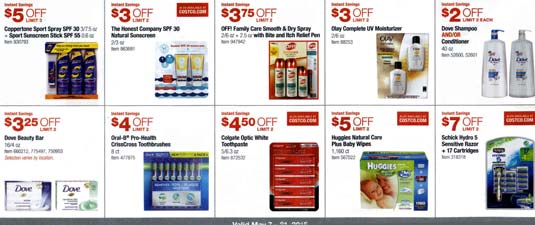 I have just published the May 2015 Costco Coupon Book for your viewing pleasure. It runs from May 7th through May 31st. Clicking the link above will allow you to view, download, or print out the coupons. The June coupon book will start on June 11th. I usually post them 6-7 days before they start. By taking an early look at the coupons you can see what is going to be on sale, and therefore wait to buy certain items, and plan out your next shopping trips a little better. This is a pretty big ad flyer, coming in at 18 pages long. If you want to be the first one to find out when we post the latest coupon book please subscribe to our email list, like us on Facebook, and follow us on Twitter!
The May coupon book really gets me excited for the summer! There are lots of sunscreens and bug repellant. Picnic packs, coolers, and patio furniture really round out the summer discounts. One interesting thing to note is that the Coppertone sunscreen pack no longer has the large tube of sunscreen, and instead has 3 spray bottles. In my opinion I think the spray bottles do not last long enough, and so I will no longer be purchasing it. The Subaru gas pressure washer is a great deal at only $269.99. Lots of allergy medicine also on sale for the pollen season. As for myself, the only thing that stands out to me is the uncured turkey bacon. I know it's more healthy than pork bacon, just not sure how it compares in taste. Also, the Cello cheese tray is great for a picnic, and I love that it has smoked gouda in it, so if the occasion arises, I'll definitely look to pick one of those up. The tire coupons are back to Michelin for the next two months.
Do the May coupons make you excited for summer? What are the can't miss items in this flyer?