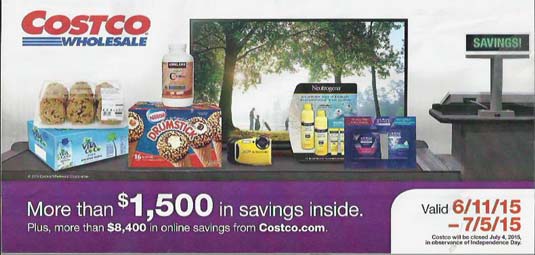 Hot off the presses is the June 2015 Costco Coupon Book. The sale will run from June 11th to July 5th. Clicking the link above will allow you to view, print, or download the coupons. We usually post the flyer ad around 6 days before it starts, so expect to see the July coupon book around the 4th. By taking an early look at the coupons you can see what is going to be on sale, and therefore wait to buy certain items, and plan out your next shopping trips a little better. The last ad flyer was 18 pages and this months is a little smaller at 16 pages. If you want to be the first one to find out when we post the latest coupon book please subscribe to our email list, like us on Facebook, and follow us on Twitter!
The June coupon book is definitely a little boring to us. Not a single item in it jumped out to us when we looked at it. I've heard excitement about the Galaxy S 6 deal, which is $0 down and includes a $50 gift card. Also, the Dove body wash being $3 off and the Huggies little swimmers. As for myself, the one item I might get is the seasoned chicken kabobs. We've had them before and liked them. The tire coupon is Michelin again, which means for July and August it will be Bridgestone.
What item in the coupon book stands out to you?