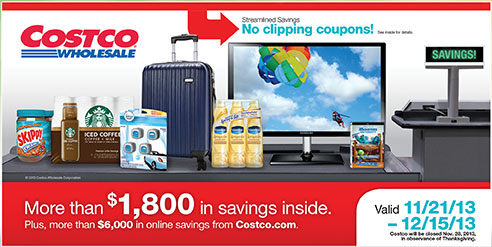 Valid starting today is the December 2013 Costco Coupon Book. Clicking the link above will allow you to view, download, and print the coupons if you'd like to. It will be valid from November 21st to December 15th. What is interesting is that the Costco coupons this week ended Wednesday for the November coupons and start Thursday for the December coupons. There are no days between the two. This coupon book also complements the Black Friday deals that start that Friday of Thanksgiving week (11/29/2013). That goes along with the Black Friday weekend unadvertised deals and TV deals. While most of the items on sale don't require any coupon, some will have a blue arrow at the top of them, which means you need the booklet or app to get the discount. Remember, the booklet says that additional books will NOT be available at the warehouse, which is a change from the past. If you'd like to be notified as soon as deals come up, make sure to subscribe to our email list, like us on Facebook, and follow us on Twitter!
For the second month in a row the coupon book has all the in-store coupons as Instant Savings, and there are three coupons that require a separate coupon (has the blue arrow). There are four pages of Online-Only offers. Once again you'll probably be disappointed after looking through this coupon book. There aren't that many great deals, nor much to be excited about. Quite a few items would make good Christmas gifts. 26 items are Televisions and Computers, which is a lot. There are also a lot of other electronics to round out the coupon book. The Disney DVD's always make good gifts as well. As for myself, there are no items that I think I will be picking up. For the second month in a row the tire coupon is for Bridgestone. Expect Michelin next month.
You can download the Costco app if you didn't get the coupon book mailed to you, and show the cashier your coupons from your phone. Also, at some locations the cashier will have the coupons already and automatically scan it for you. I  heard they are getting more strict on this though. These coupons will not work in store, as you need the barcode. Read more if you'd like to see a list of items and their after coupon prices. Have you tried any of the items in this coupon book? What did you think?
Page 1
$25 off ACUVUE CHOOSE FROM: 2 BOXES OF: ACUVUE OASYS 24 ct, 8 BOXES OF: ACUVUE OASYS Family 6 ct, 4 BOXES OF: 1-DAY ACUVUE Moist 90ct OR 12 BOXES OF: 1-DAY ACUVUE Moist for astigmatism 30ct
$2off Duracell Alkaline Coppertop AND/OR Quantum Batteries AA AND/OR AAA
$30 off Garmin 5″ GPS
$150 off HP Envy 15.6″ Touchscreen Laptop Computer with beatsaudio
Page 2
$150 off Toshiba Satellite 17.3″ Touchscreen Laptop
$150 off HP Envy 23″ Recline All-In-One PC Computer with beatsaudio
$50 off HP 27″ IPS LED Backlit Computer Monitor
$50 off Samsung 24″ Class 1080p LED LCD HDTV
$300 off VIZIO 60″ Class 1080p 240Hz Smart 3D LED LCD HDTV
$15 off Seagate Backup Plus 1TB Portable Hard Drive
$100 off Sony HDR-CX380 Camcorder
$35 off Samsung WiFi Video Camera 2 pk
$15 off iHome Alarm Dock
$40 off Panasonic 5-Handset Phone Dect 6.0
Page 3
$60 off HP Photosmart 7525 Wireless Inkjet Printer
$60 off Dyson DC39 Multi Floor Canister Vacuum
$20 off Panasonic Blu-ray with WiFi
$40 off Yamaha Sound Bar
$20 off Jabra Bluetooth Car Speaker with Bonus Car Charger
Up TO $70 OFF Verizon Samsung Galaxy S 4
UP TO $50 OFF Verizon Samsung (sic) Moto X by Motorola
UP T0 $100 OFF AT&T LG G2
UP TO $120 OFF Sprint Samsung Galaxy S 4
$20 off ECOXBT Rugged Bluetooth Speaker
Page 4
$3 off Ghirardelli Assorted Chocolate Squares
$2.40 off Quaker Life Cereal 62oz
$2.50 off Kashi Go Lean Crunch! Cereal 51 oz
$2.50 off Maxwell House 42.5oz AND/OR Yuban Coffee 44oz
$3.25 off Starbucks Via Instant Coffee Colombian AND/OR Italian Roast 24ct
$2 off White Chocolate Raspberry Mousse Cake
$2.50 off Sunny Delight 24/11.3 oz
$3.50 off Perrier Sparkling Water Original AND/OR Citrus
$3 off Starbucks Refreshers Variety Pack 12/12 oz AND/OR Iced Coffee 12/11 oz
$2.70 off POM Wonderful
Page 5
$1.80 off Tostitos Artisan Chips Roasted Garlic & Black Bean, 26oz Bag
$3 off Skippy OR Jif Peanut Butter 2/48 oz
$2.50 off Clorox Disinfecting Wipes
$3.30 off Finish Powerball All-in-One Tabs
Up To $2.80 off Kirkland Signature Environmentally Responsible CHOOSE FROM: $2.80 OFF Laundry Detergent 120 loads OR $2 OFF Dish Detergent 135 oz
$3 off all Liquid Laundry Detergent Free & Clear AND/OR Stainlifters, 2/124 oz
$4 off Jerky Treats for Dogs
$3.50 off Cuisine Adventures OR Athens Foods Spanakopita 48 ct
$3 off Minh Egg Rolls 3 oz Pork OR Mini Chicken
$4 off Bertolli Chicken Margherita & Penne Skillet Meal 2/30 oz
Page 6
$5 off Disney Animated Movies DVD
$8 off Disney Animated Movies Blu-ray AND/OR 3D
$3 off Vaseline Spray & Go Lotion 3/6.5 oz cans
$3 off Neutrogena Makeup Remover Towelettes
$6 off Muscle Milk Protein Powder 4 lbs
$4 off Goodyear 4-Piece All-Weather Car Mat Set Black, Tan OR Gray
$2 off Febreze Air Freshener Vent Clips 4 ct Hawaiian AND/OR Linen Sky
$70 off ANY SET OF 4 Bridgestone Tires
$5 Off KitchenAid Dish Rack
$10 off PUR Stainless Steel Style Faucet Mount with 2 Filters AND/OR Faucet Mount Replacement Filters 6 ct
Page 7
$6 off Wahl Deluxe Hair-cutting Kit
$30 off Philips Sonicare Elite Rechargeable Toothbrush 2 pk
$20 off Philips Norelco PowerTouch Shaver with Aquatec
$20 off Ninja 3-in-1 Cooking System
$39.99 after $10 off Ricardo Beverly Hills Lightweight 20″ Spinner Carry-On
$10 off Align Daily Probiotic 63 ct
$3.50 off CHOOSE FROM: FiberChoice Sugar-Free Assorted Fruit 220 ct, Beano Tablets 120 ct + 12 ct, Schiff Digestive Advantage Probiotic Gummies 120 ct
$7 off Exergen Temporal Artery Thermometer
$4 off Pure Alaska Omega CHOOSE FROM: Wild Alaska Salmon Oil 1000 mg 180 ct, Omega-3 EPA DHA 500 mg 180 ct
$5 off Nature's Bounty CHOOSE FROM: Sublingual Vitamin B-12 250 ct, Vitamin D3 5000 I.U. 300 ct, Cranberry with Hibiscus 500 mg 120 ct
Page 8
$4 off Nature Made CHOOSE FROM: Fish Oil 1200 mg 2/200 ct, Vitamin E 400 I.U. 225 ct, Vitamin C 500 mg 180 ct, Diabetes Health Pack 60ct
$8 off Nature Made Coenzyme Q10
$3.50 off CHOOSE FROM: NeilMed Sinus Rinse Kit with 2/8 oz Bottles, Zicam RapidMelts 45 ct, Nature's Bounty Ester-C 500mg 300ct
$4 off Natrol 5-HTP 150 ct AND/OR EcoDrink Multivitamin Powder 30ct
$6 off Mucinex DM AND/OR Max Strength 12-Hour 48ct
$5 off Zipfizz Variety Pack 30 ct AND/OR Kirkland Signature Vitamin B-12 5000mcg 300ct
$3 off Airborne CHOOSE FROM: Gummies 75 ct, Chewable Tablets 116ct, Effervescent Tablets 2/18ct
$4 off Zantac Tablets 150 mg 2/45 ct AND/OR Dulcolax Laxative Tablets 200ct
$6 off Osteo Bi-Flex 170ct AND/OR Nature's Bounty Maximum Strength Fish Oil 1400mg 130ct
$199.99 after $60 off Hansgrohe Brushed Nickel Pull-Down Kitchen Faucet
Page 9
$1499.99 after $200 off Dell XPS ONE 27″ Touchscreen All-in-One Desktop Computer
$999.99 after $500 off HP 700se Desktop Computer with 23″ Monitor
$999.99 after $250 off HP 17t Quad 1080p 17.3″ Laptop Computer
$799.99 after $200 off HP 15t Quad Touchsmart Laptop Computer
$169.99 after $20 off Wire-Free 2 Camera Video Monitoring System
Page 10
Online Only:
$899.99 after $200 off Cannon CS33 Executive Vault Safe
$699.99 after $200 off Lorex 16-Channel Stratus 960H Security Camera System
$799.99 after $200 off DuraCabinet Pro Il 6-Piece Garage Set
$139.99 after $30 off Commercial Propane Patio Heater
$1999.99 after $500 off EPIC A42T Platinum Treadmill
UP To $200 off Select Wine Cellars From Wine Enthusiast
$2499.99 after $500 off Brunswick Acton Billiard Table
$299.88 after $80 off Spalding 54″ Acrylic Portable Basketball System
Page 11
Online Only:
$2199.99 after $600 off Metropolitan Top Grain Leather Sectional and Ottoman
$649.99 after $150 off Novaform Serafina 14″ Memory Foam Queen Mattress
$1999.99 after $450 off Carolina 6-Piece Queen Bedroom Set
$2699.99 after $600 off Rivoli 4-Piece Top Grain Leather Set
$99.99 after $30 off Yukon Charlie's Pro II Aluminum Snowshoe Kit
$599.99 after $100 off Sealy Posturepedic Langley Queen Mattress Set
$249.99 after $100 off Sentry Safe 2.0 Cu. Ft.Big Bolt Fire- and Water-Resistant Safe
$84.99 after $15 off Amped Wireless High Power 600mW Wi-Fi Range Extender and Smart Repeater
Page 12
Online Only:
$999.99 after $200 off .60 ctw Round Diamond Stud Earrings
$29.99 after $40 off XM Onyx EZ Satellite Radio with Vehicle Kit
Up To $60 off Select MW Mounts
$10 off iHome iBT25 Bluetooth Wireless Stereo Speaker
20% OFF Georgia-Pacific Sofpull Center-Pull Hand Towels and Dispenser
20% OFF Select HON Office Chairs
$79.99 after $20 off Fellowes Powershred DS-1200Cs Cross Cut Shredder
$259.99 after $80 off Brother DCP-8150DN High-Speed Laser Multi-Function Copier with Duplex Printing and Networking