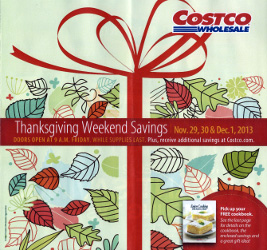 The most popular Costco ad of the year is now available for your viewing pleasure. The 2013 Costco Black Friday Ad is available to see, print, or download from this link. The first page of deals is valid from November 24th to December 2nd, while the other 8 pages are valid only on Black Friday weekend (November 29th to December 1st). Pages 2-5 are in store coupons while pages 6-9 are online-only offers. No deal requires an actual coupon, all deals are what Costco calls "Instant Savings". The December coupon book will also be valid over this time period if you'd like to use those coupons as well.
It is weird that the first page advertises "Instant Savings on Samsung TVs" yet there are no TVs in the ad. Costco did something similar last year and had a bunch of TV deals that were unadvertised. I expect another circular that includes TV deals. I will post those coupons as soon as I get them. Also, the December coupon book begins November 21st, so there are some deals in there that overlap with Black Friday. Costco will open at 9am for Black Friday. Some stores will open early, with hours from 8:30am to 8:30pm. I would suggest calling your stores membership department to confirm what time they're opening that day.
There are actually not a lot of great deals in this ad scan. Many prices are on par with Amazon and other retailers. The best deal may be the Dyson DC50, which after $100 off, should be around $299. The HP Envy TouchSmart 15.6″ Laptop for $799 after coupon is also a pretty good deal. Besides that, people like the Samsung Sound Bar, the Nikon D3200, and the Samsung Galaxy Tab 3. However, it sounds like you can pickup the Galaxy Tab 3 at that price at any retailer on Black Friday. Also, don't forget you get a free Costco Cookbook on Black Friday. These usually run out by mid-day on Saturday, so make sure to stop by and pick one up!