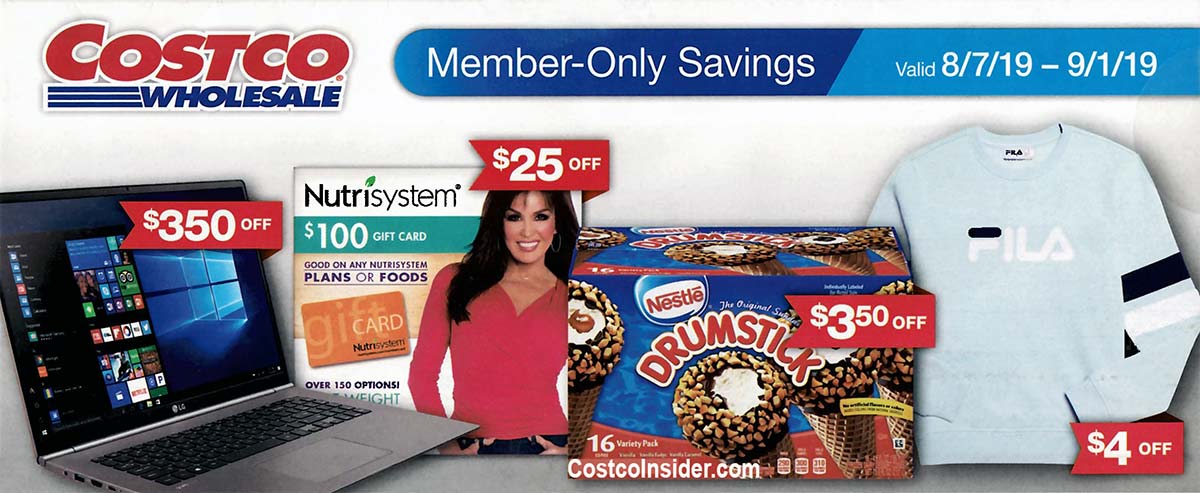 Costco Insider once again brings you the early sneak preview of the Costco August 2019 Coupon Book. The valid dates for the August 2019 Costco coupons are August 7th through September 1st. To open the coupon book simply click the link above and you'll be taken right to them and can click on them to zoom in on the pages. The August 2019 ad is one of the largest we've seen in quite some time coming in at 27 pages long. The September 2019 Coupon Book will start on September 4th, only 3 days after the August booklet. You can sign up for our email list, Like us on Facebook or Follow us on Instagram to get notified as soon as we release the new coupon book.
There are deals everywhere in the August 2019 Costco coupon book. By our count we're seeing 155 items on sale. The Ring alarm home security system at $40 off is an interesting deal. Red Bull at $7 off is a really low price. We're a little surprised to see the Huggies Pull-Ups as they don't go on sale very often. The Pacific Gold Beef Jerky only goes on discount about once a year, so we'll likely pick up some of that. The tire coupon is Bridgestone again and is $70 off.
For those that are having trouble finding the link to open the August 2019 coupon book we appreciate your patience. The first step is to make sure you're on the post page, which is linked here -> Costco August 2019 Coupon Book. After that you'll want to click the link in the very first sentence, which is labeled Costco August 2019 Coupon Book. For those still having trouble after following those steps you can also go directly to page 1 here. We want your opinions, what do you think of the August coupons? Let us know in the comments below!