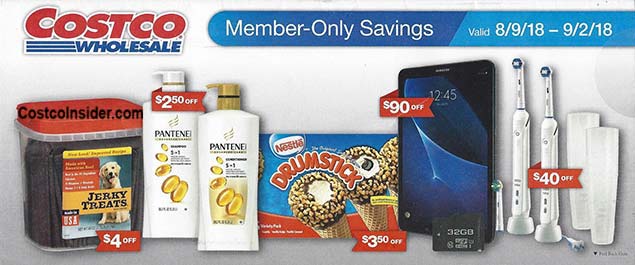 We know you've been waiting for the Costco August 2018 Coupon Book and we're glad we can bring it to you! The August 2018 Costco coupons will be valid from August 9th through September 2nd. While we'd love for you to read our review of the coupon book, we know how eager you might be to see it. All you have to do is click the link above and it will take you right to it. Clicking any of the page images will make them bigger as well. You can also see a list of August 2018 Unadvertised Deals if you're looking to see even more items on instant coupon. This is an extra long coupon book at 26 pages. There are roughly 9 full or half page ads for a specific company or product. If you want to get an email as soon as we post the latest coupons you can sign up for our email list, or Like us on Facebook!
The first thing that stands out to us in the August 2018 Costco Coupon Book is the iPad for sale at $40 off. It's not too rare that you can get Apple products at a discounted price, but you can thank your Costco buyers for that. We love the RST Brands Outdoor Patio Furniture, so we're excited to see the Vistano 4-Piece Fire Chat Seating Set at $600 off. You can always read our review of the Portofino Modern Sling 4-piece seating set if you want to get an idea of the quality of their products. Lastly, we love the MusclePharm Cookies and Creme Protein Powder, and at $11 off it's hard to pass up! The tire coupon is Bridgestone again for the second month in a row at $70 off.
If you're wondering why you don't see the coupon book you must click the link in the first sentence when on the Costco August 2018 Coupon Book page. Overall, we're feeling pretty good about this coupon book, especially considering the size of it. Which items will you be picking up from it?