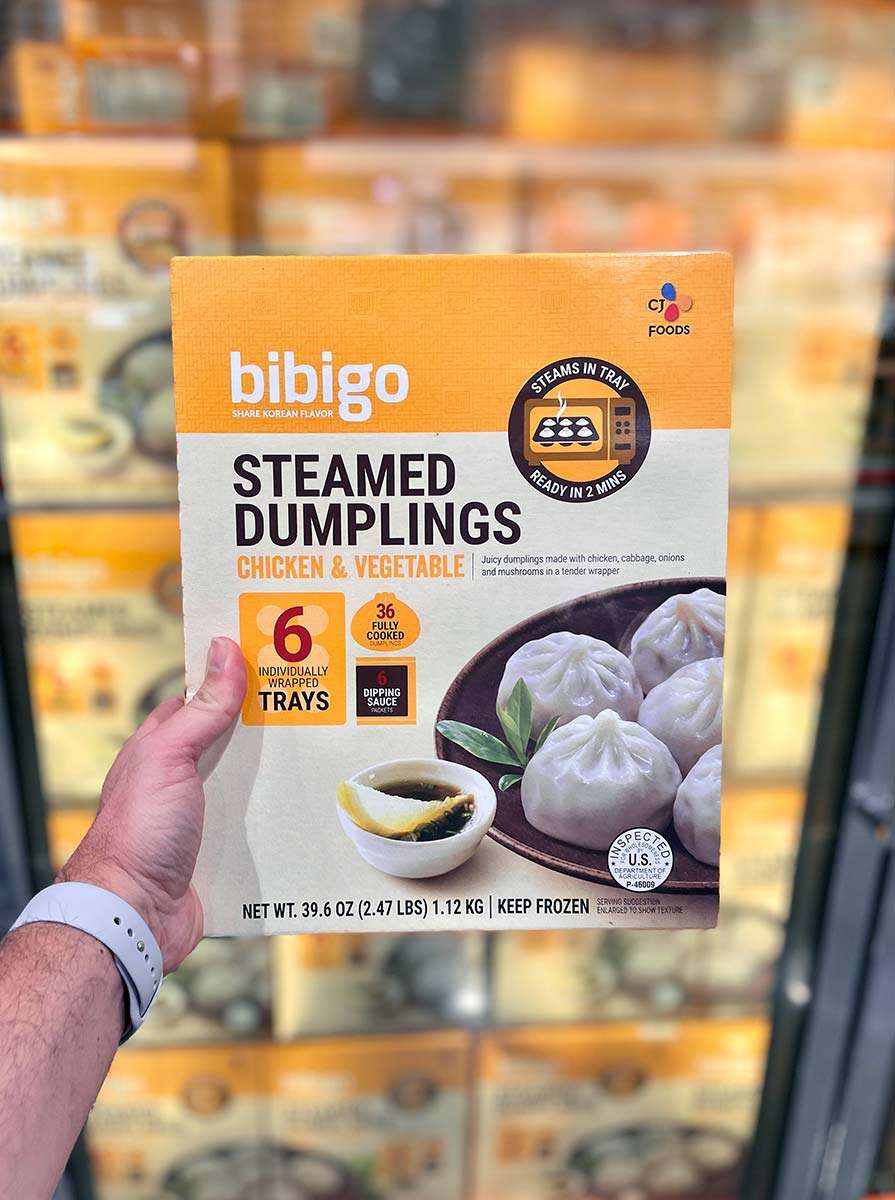 Bibigo has done it again! With several different products now in Costco we were very excited that Bibigo was offering to send us samples of the Chicken and Vegetable Steamed Dumplings to review. If you haven't tried them yet, you must!
Each tray has 6 dumplings filled with hearty chicken and vegetables. You simply place the tray and bag into the microwave, and within a short time you have perfectly steamed dumplings. They also give you a packet of sauce for each tray you can drizzle over the top or dip the dumplings in. The sauce is a delicious mixture of soy and vinegar with other tangy flavors that balance the flavor of the dumpling. Keep in mind you typically don't get sauce packets included when buying products like this, so this is a nice added bonus.
With each bite we sampled we were saying out loud, "Wow, these are so good." It is so refreshing and exciting when you find convenient and delicious food to always have on hand in your freezer! We love that you can actually see what vegetables you're eating, and not to mention a hearty serving of chicken in each dumpling. Each dumpling is filled with a generous portion of chicken, cabbage, onions, and delicious Korean seasoning that truly hits the spot. They're like a mini version of a traditional soup dumpling with a great juicy broth filling. Imagine the rich, savory flavor of a slow-cooked stock complementing the perfect full bite of juicy, filling dumpling.
Whether you are watching your calories, counting your macros, or just looking for a delicious Korean meal option, these Bibigo Steamed Dumplings check all the boxes. An entire tray of dumplings is only 250 calories. And better yet, 15g of protein! And with only 34g of carbs taking up 10% of your daily value, you can enjoy every bite without any guilt.
Finding good Korean food can be difficult, but these dumplings are ready for you to have on hand in your freezer at all times. It is also convenient that these dumplings are already cooked, and ready in just 2 minutes! It doesn't get much easier than that! Definitely a quick and easy meal! There also aren't any dishes to clean up after eating them since they come in an easy to use microwaveable tray.
Not only can you eat these delicious dumplings on their own, you can also add them to various recipes for a wide variety of dishes! Bibigo has lots of authentic Korean recipes using these dumplings that sound absolutely delicious! And with the flavor in the dumplings alone, a combined recipe using them could only make them better!
Partnering with Costco has allowed them to sell a pack of 6. Sold nowhere else in this large quantity! And trust us, you'll want all 6 trays of these delicious dumplings. For just $11.99 you get 6 easy, delicious, and filling trays of dumplings.
Bibigo's Chicken and Vegetable Steamed Dumplings can act as an easy appetizer for last minute guests, a quick lunch that's fast to pack and take on the go, or a dinner for those nights you don't feel like cooking. They're also great as a late night snack or a light lunch. At less than $3 per tray, that's a steal of a deal. And if you plan on adding these dumplings to other recipes, you make that $11.99 go even further!
And we aren't the only ones raving about these delicious dumplings. Users are saying things like, "A dish from heaven!" And "These are so easy to prepare and delicious to eat!" Another customer said they used them to make a family favorite dumpling soup. And of course customers are really excited that each serving contains 15g of protein.
Bibigo is a company you know and love, and these Chicken and Vegetable Steamed Dumplings don't miss a beat. They are kid friendly, weeknight-on-the-go friendly, and definitely hosting friendly. We love their versatility!
We are completely sold on having these dumplings as a staple in our freezer, and we know you will enjoy them just as much! Find them in the Costco freezer section and stock up!