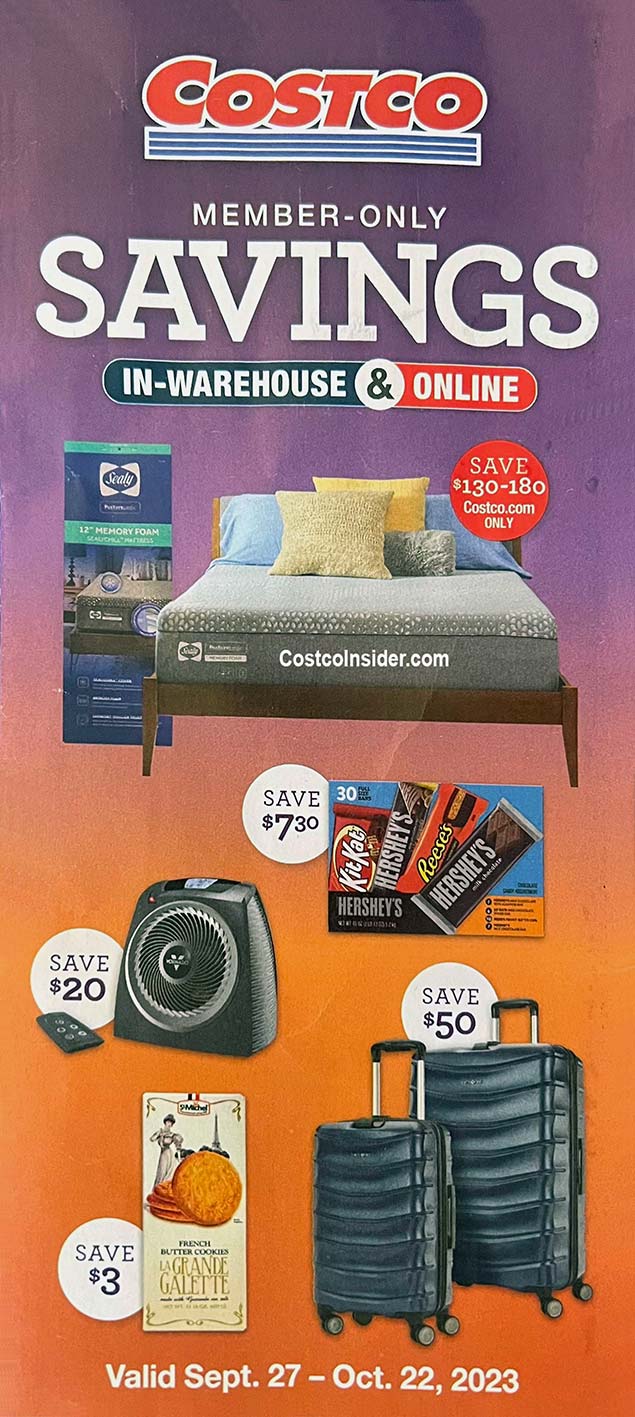 We are delighted to share with you the upcoming Costco October 2023 Coupon Book. The October 2023 Costco Coupons run from September 27th through October 22nd. In order to display the coupons you need to click the link above and you'll be taken to them. Don't forget to also take advantage of the deals in the October 2023 Hot Buys Ad which is running now through October 15th. If you want to get notified as soon as we release the upcoming Costco November 2023 Coupon Book then make sure to sign up for our email list, follow us on Instagram and Like us on Facebook!
There are some great deals in the Costco October 2023 Coupon Book! We recently reviewed the Orgain Collagen Peptides + Probiotics and are big fans! Another recent Costco purchase which we might just have to get a price adjustment on is the Tramontina Ceramic Nonstick All-in-One Pan with Utensils at $39.99 after $10 off. We can cook our salmon and broccoli at the same time in a single pan and it's a game changer! The full size Halloween candy bars are on sale, with two different package options. The Ferrero package has Butterfinger, Crunch Bar, 100 Grand and Baby Ruth, while the Hershey's box has Hershey's Milk Chocolate, Reese's, Kit Kat and Hershey's Almond. The tire coupon is Michelin again.
If you're still reading and unable to get the coupon book to show up you can also click this link to go directly to the first page of the slideshow for the October 2023 Costco Coupon Book. What are you going to buy in this months coupon book? Leave a comment and let us know!
Here's a few of the deals in the Costco October 2023 Coupon Book:
Hershey's Chocolate Candy Assortment $7.30 off
Gourmia 7 qt Digital Air Fryer $49.99 – $10 off = $39.99
Orgain Plant-Based Protein Shake $7 off
Michelin Wiper Blades $10.99 – $3 off = $7.99
Tramontina Ceramic Nonstick All-in-One Pan with Utensils $49.99 – $10 off = $39.99
Ready Clean Protein Bars $5 off
Ferrero Full Sized Bars $7 off
Food Should Taste Good Organic Multigrain Tortilla Chips $3 off
Waterloo Sparkling Water $2.40 off
Ajinomoto Yakitori Chicken Fried Rice $3.80 off