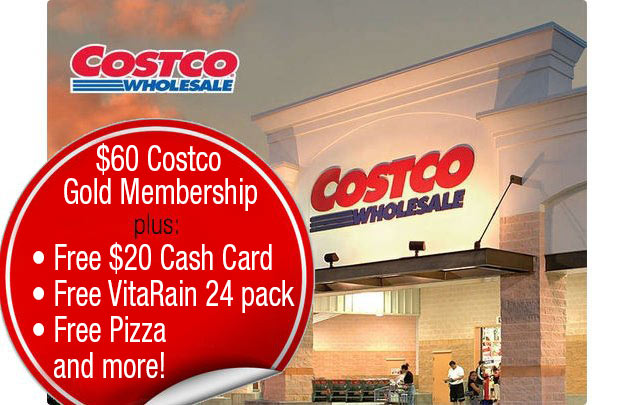 Costco Membership + Bonus $20 Cash Card + Coupons
UPDATE: This deal is no longer running. Make sure to sign up for our email list to find out when the next membership deal comes along!
Occasionally Costco will offer a discount on new memberships. Luckily for you, now is one of those times. The last time there was a discounted membership deal was about 18 months ago. Starting today and running through August 13th you can buy a Groupon for a new Costco membership. It will cost you $60 and get you about $115 in value (or $215 depending on how you look at it).
$60 for a One-Year Costco Gold Star Membership Package ($215.63 value)
As part of this exclusive offer, all new members will receive:
A One-Year Costco Gold Star Membership, which includes a membership card for the primary cardholder as well as one free Household Card
$20 Costco Cash Card
Exclusive coupons for three free Kirkland Signature (TM) products ($35.63 value*):

Free Paper Towels Create-a-Size 12/160 ct ($15.69 value)
Free VitaRain Zero Flavored Water 24/20 oz bottles ($9.99 value)
Free Food Court Whole Pizza ($9.95 value)

$25 off an order of $250 on Costco.com
$75 Costco Cash Card toward Costco Travel to the Caribbean, Costa Rica, Europe, Hawaii, Mexico, or the South Pacific (excludes cruises)
This deal is for the basic Gold Star membership. If you want to upgrade to Executive Membership you can do so when you go in to the store to redeem your membership voucher. Upgrading to Executive will also net you an additional $20 Costco cash card, so you'd get $40 in cash cards in total. You must have never been a Costco member before or your membership must have expired prior to April 1, 2017. Yes, we believe a secondary card member would be considered as never having been a member before.
You will have until November 1st to bring your voucher into the store to start your membership. One other tip is that membership is good through the end of the month of the following year that you redeem it, so it makes sense to not redeem today, but wait until tomorrow (August 1st) so that it's good through August 31st, 2018. You should still buy it today, just don't go into the store to redeem until tomorrow. We're not sure how many memberships Groupon is selling, so you should definitely act quickly if you can.
Buy Now
How It Works
Complete your purchase on Groupon.
Receive your voucher from Groupon and redeem it online.
You'll get an email with a Costco Membership Activation Certificate to print.
Bring the printed certificate to your local Costco to complete your membership application.
Receive your Costco Cash Card within 4-6 weeks and your coupons within 4 weeks of voucher redemption.