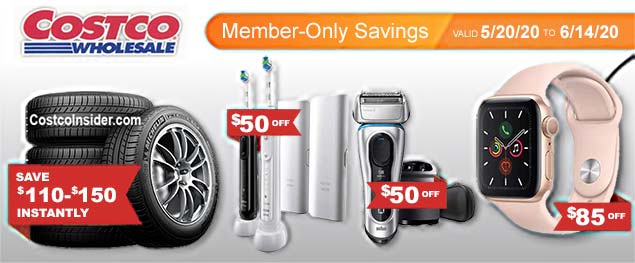 We just published the Costco May and June 2020 Coupon Book. This months Costco coupons bring back a little more sense of normalcy now that food items are on sale again. When you click the link above it will display all of the coupons for you. The May and June Costco coupons run from May 20th through June 14th. Keep in mind there's also the May Hot Buys coupons which run through May 17th! You will not receive this months coupon book in the mail, however starting next month you will start receiving them in the mail again. If you're one of those members that never gets it in your mailbox or you want to see an early preview before you get it in the mail you can be notified as soon as we release the next coupon book by signing up for our email list, Liking us on Facebook and Following us on Instagram.
It's so nice to see food items back in the May and June 2020 Costco Coupon Book. We feel like there's less than in a normal coupon book, but we'll take what we can get. The Sheila G's Brownie Brittle is pretty delicious, especially dipped in some vanilla ice cream. The Braun Series 8 Shaver is our favorite and is $50 off. The BOGO on the Boom Chicka Pop Kettle Corn is a great value. Bai drinks are our favorite, so very excited to see those at $4.50 off. We haven't seen the Humm Organic Kombucha before but it sounds pretty tasty. The Costco tire coupon for this month is Michelin again.
If you're looking for the coupon book and can't find the link you have to check on two things. First step is to make sure you're on the post page titled Costco May and June 2020 Coupon Book. Next, you want to click the link in the very first sentence, which is titled Costco May and June 2020 Coupon Book. If that does not pull up all the coupons for you you click this link to go directly to the first coupon book page. What are your thoughts on this months coupons? Better than last month? Does it excite you enough to go into the store and do some shopping?