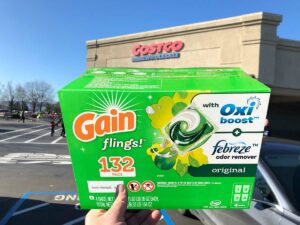 Costco just started carrying Gain flings! Laundry Detergent Pacs and we are excited to bring you a review of them. For years we've been a liquid laundry detergent or powder laundry detergent household, so the chance to try and compare laundry detergent pacs for the first time was very enticing. Thanks to Gain for providing the product so we could do a thorough review of it. Gain flings began reaching Costco stores last week, so make sure to look for them on your next Costco run. It is not available in all Costco locations at this time, but the majority of stores around us had them. You can always call your local Costco to see if they're carrying it, just ask about item number 1355134!
When doing our Gain flings review the first thing we did was find out what makes it stand out against the rest of the available laundry detergents. If you didn't know, the Gain brand is well known for two things that set it apart. First of all, everyone loves the scent. Secondly, the scent "lasts forever" as all the reviews we read said. Using Gain you'll get up to 6-weeks of freshness. Can you imagine your bed sheets smelling fresh every single night?
Considering those two claims you can see why Gain flings were rated the best laundry pod for odor. These pods also have some additional features that make them stand out. They are a 3-in-1 pac, with Oxi boost and Febreze odor remover in addition to the Gain detergent. Oxi boost is an oxygen-based bleach like a Chlorine bleach but it works slower, is less damaging to the fibers and is more environmentally friendly. So in short Oxi boost helps remove stains while Febreze helps remove odors. Another advantage to the Gain laundry pacs is that they have 50% more scent than Gain liquid laundry detergent. Lastly, by buying at Costco you get 12 bonus flings, helping bring down the cost per pac even more.

Now that we knew what the main product benefits were it was time to give the Gain flings laundry pacs a try. Their ease of use definitely saved us a good 15 seconds per load. Multiplying that by 132 loads and you're saving 33 minutes per box. Depending on how much your time is worth that can easily pay for the box right there! Anyway, we threw a pac in the drum, washed a standard load and the clothes definitely came out clean and fresh. After running through the dryer the famous Gain scent was definitely noticeable, and pleasant. Some laundry pacs sometimes have issues dissolving properly but we had no issues. We tried a load in both cold and hot water and there was no plastic or residue left on any of the clothes. The box also mentions that they're designed to be used in any temperature water as well as both HE and standard washers.
If you're wondering what the benefits of a laundry pod is vs liquid detergent or powder detergent we will fill you in. Pods are much more convenient. Not only do they save you time on every load, but you can easily carry them with you if you're a student or anyone using a coin-operated or shared laundry machine where they must carry the clothes and detergent to the machine. They also create a mess free environment. No longer will you have spilled liquid detergent or powders all over the top and front of your washing machine. A popular misconception is that pods are more expensive due to the convenience factor and added costs of manufacturing. However, when comparing this extremely good Costco deal to regular pricing of Gain liquid laundry detergent they are about the same per load! Costco is selling the 132 pac box for $24.89, which comes out to $0.19 per pod. Keep in mind price and availability may vary.
Frequently Asked Questions
What are Gain flings?
Gain flings are laundry detergent pacs that include Oxi boost and Febreze odor remover in addition to the Gain laundry detergent.
Can i use Gain flings in my HE washer?

Gain flings work in both HE and standard washers. That should cover 99.9% of all household washers.
How do laundry pods work?
Laundry pods disintegrate in the water of the washing machine, and then work just like any other laundry detergent.
Are Gain flings good?
Gain flings are rated the #1 laundry pod for odor. Not only that but they do a great job of removing tough stains.
Do Gain flings have fabric softener in them?
No there is not a fabric softener built into the Gain flings pac.
Do Gain flings work in cold water?
Yes, they are rated for all water temperatures. We had no issue doing a cold wash with them.
How many laundry pods to use?
Small and medium size loads take 1 pod. Large loads recommend using 2 pods.
Disclosure: Review samples were provided by the manufacturer.