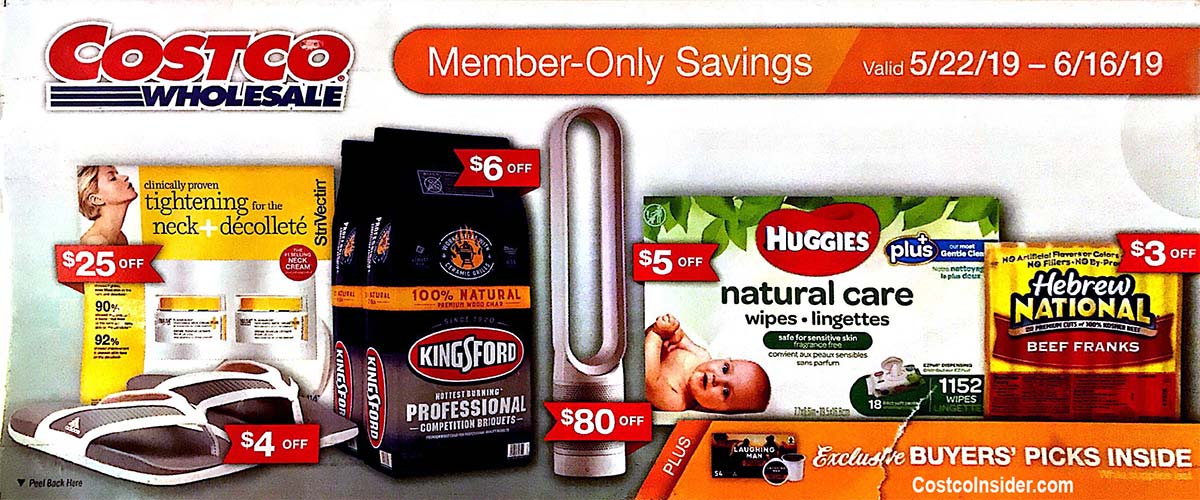 We have just published an early preview of the Costco May and June 2019 Coupon Book. The May and June 2019 Costco coupons will run from May 22nd through June 16th. Clicking the link above will allow you to see the coupons and enlarge them by clicking on them. Even longer than last month, this coupon book is 26 pages and is full of deals. You can sign up for our email list, Like us on Facebook or Instagram if you'd like to be notified the second we post our early looks at the Costco coupon books!
The May and June 2019 Costco coupon book definitely has some deals worth mentioning this month. We really like the Portofino products, so we're excited to see some of their patio furniture on sale this month. There are a lot of snacks on sale, including our favorite Edward Marc Dark Chocolate Sea Salt Snappers. Most of us dearly miss the Hebrew National hot dogs that used to be in the foodcourt and the packages will be $3 off this month. You really can't go wrong with the block of Dubliner cheese. If you haven't tried Dubliner before you won't regret it. While we personally love Bai here at Costco Insider we know there's a lot of Spindrift fans out there, and both will be on sale this month. The tire coupon is Michelin and includes the additional $60 off with the Costco Visa card for a total of $130 off.
If you still can't find the coupon book we will help you find it. First of all make sure you go to the post page, located here — Costco May and June 2019 Coupon Book. Then, you want to click the link in the very first sentence, which is titled Costco May and June 2019 Coupon Book. If that still is not working for you, you can also go to directly to Page 1. Which items do you think you will be buying in this months coupon book? Leave a comment letting everyone know which items stand out to you!