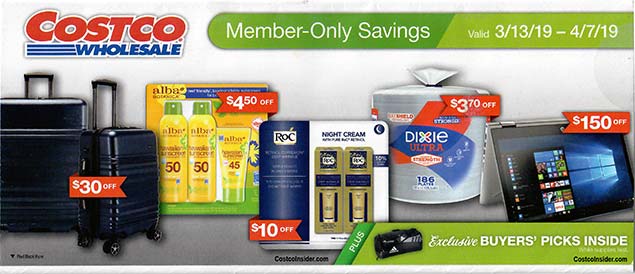 We've just released the Costco March 2019 Coupon Book for your viewing pleasure. The March 2019 coupons will run from March 13th through April 7th. Clicking the link above will reveal the coupon pages so you can view them and enlarge them if you'd like. In total this is a rather large coupon book at 27 pages long. Thanks to our friends at Costco97 for helping us acquire the coupons early. Don't forget to look at the Upcoming Costco Coupon Books page to find out about other coupon books coming soon! You can sign up for our email list, Like us on Facebook or Instagram if you'd like to be notified the second we post our early looks at the Costco coupon books!
We like many of the deals that are in the March 2019 Costco Coupon Book. As we mentioned on the Upcoming Costco Coupon Books page, the Kirkland Signature Jelly Belly's are $4 off. The Sanders Chocolate Sea Salt Caramels are one of our favorite Costco products, so definitely glad to see it in the coupon book this month. Since it's seasonal we always make sure to stock up when we start to see the star on the price tag. The Costco tire coupon for this month is $100 off Bridgestone tires and installation.
If you've read this far along and you're wondering where the coupon pages are, you need to make sure you're on the Costco March 2019 Coupon Book page and then click the link in the very first sentence. Leave a comment with your favorite item out of the March 2019 Costco coupons and we'll see which one wins!