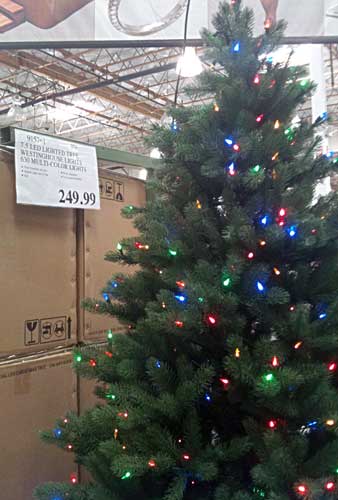 Read my 2012 Costco Christmas Tree update now.
Costco carries a variety of Christmas trees in stores. There are pre-lit artifical Christmas trees, as well as real fresh-cut trees. Unfortunately not very many stores carry the real trees, which is a bummer because they are a great deal. For the artifical, they carry 7.5 ft and 9.5 ft with white lights as well as 7.5 ft in color lights. These 7.5′ white GE made trees include a foot pedal switch, 1,000 lights, tree stand, Constant ON lights, and are Colorado Spruce priced at $250. The 9.5′ is similar, with more lights. The 7.5′ multi-color artificial pre-lit also has a price of $250, but is made by Westinghouse, has only 630 lights, is LED, and also has a stand.
I will give my review of the 2011 7.5′ white Costco pre lit christmas tree. Most importantly, we are very happy with our purchase. My favorite part was how easy it was to set up. From the time I opened the box it was completely up in 3 minutes. The branches were already fluffed and connected, the lights were on it and the stand was easy. I connected the top, middle, and bottom and plugged it in and I was done. With past artificial trees I've had to sort all the branches by letter (size), connect them one by one, and then string lights. An hour and a half later I was done, instead of three minutes it took with this one. And on top of all of that, this tree looks much better and more realistic. While we wish it had LED lights, we still think it is worth every penny spent.
Costco carries fresh cut trees at select locations. In the Bay Area region they ship them in from Oregon. At our local Costco they arrived on Dec. 1st, and sold out within a week. The price was $45 for a 7′ – 8′ noble fir. I'm sure tree prices vary across the country, but in the Bay Area trees like these would normally sell for $70 to $80. As you can see by the photo, it's a beautiful tree as well. Our local location had 1,000 trees trailered in, and as I mentioned earlier, they sold out quick. You can pay for the tree at the register, drive your car to the trailer, show them the receipt and they'll load it and tie it on to your car for you. They claim the tree was cut down within the last week. One downfall is that you can't really see what the tree looks like until you take it home, unlike a tree lot. I suppose that's where Costco's excellent return policy comes in handy. You can have it opened once you buy though, it just makes it harder to take home once opened. Did you get a Costco Christmas tree? What do you think?