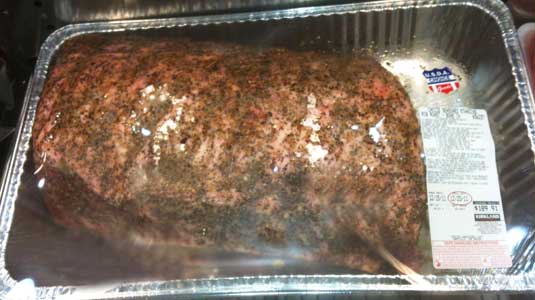 Every Christmas Holiday season Costco carries a bunch of prime rib roasts in store at great prices. Be like us and skip the Christmas turkey or ham to have something really tasty. These prime cuts of beef come pre-seasoned and oiled, with whole garlic cloves throughout. As for the "Prime" designation, this is only given to less than 2 percent of all beef in the U.S. The signature of this meat is that it's young and with the best marbling.
Prices start at $9.99/lb for the Choice Seasoned Prime Rib (bone-in) and $16.99 for Prime Seasoned Prime Rib (bone-in). If you can wait and are fast on your feet, you can buy these cuts after Christmas and New Years for about $3.99/lb. As you might imagine, they will often sell out within the first hour of being discounted.
We've enjoyed this on many occasions and found the meat to be of high quality. As garlic lovers, we find the seasoning and whole garlic cloves to be excellent. Another perk is that it's all ready to put in the oven once it's brought home from Costco, so it makes cooking the meal that much easier.
Need to complete the meal? Pair the prime roast with a hearty red wine, like a full-bodied cabernet sauvignon or petite sirah. Costco has increased their wine department over the last few years, so you're bound to find a few excellent bottles in your price range.
Have you tried their prime rib? Did you have the choice or the prime, and what did you think?
See our updated 2018 Costco Prime Rib Roast post for new information and pricing!