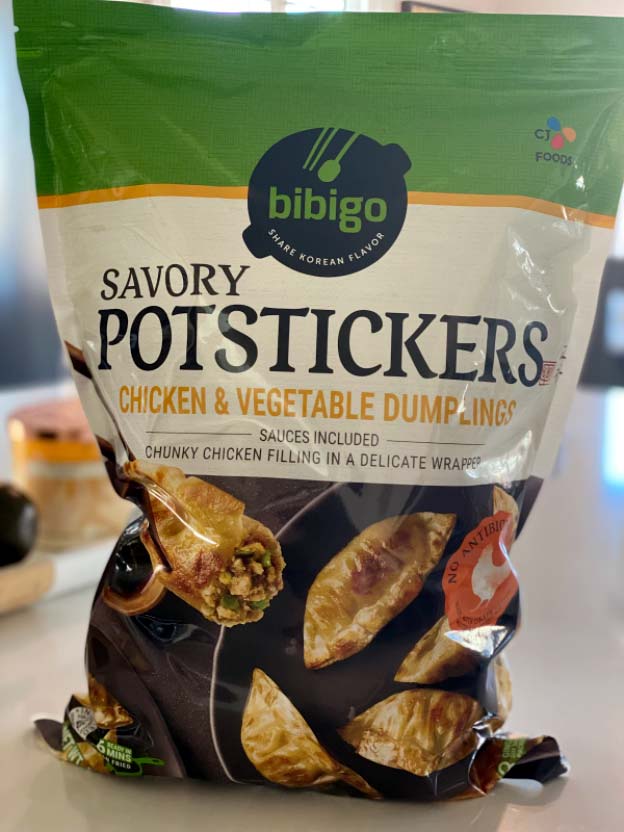 Once again, bibigo has a great NEW product on Costco shelves! Bibigo's Savory Chicken Potstickers are the newest staple in your freezer. We were very excited when bibigo reached out to us to review their newest Costco item because we love all of their products. Not only is bibigo a trusted name in frozen foods but they know how to create food that is delicious, easy to make, and act as staples in everyone's kitchen, and that just makes shopping for groceries easier.
Rich in flavor and easy to make, we are excited that the Savory Chicken Potstickers from bibigo now come in a huge Costco size- more than 4 pounds! Full of protein-rich chicken and hearty vegetables you can actually see, these potstickers are a great addition to any meal. Each bite is truly a culinary experience.
Bibigo created these potstickers with a thinner wrapper than you will usually find for potstickers, because they wanted to make extra room for their delicious filling. This means that you get more room for their perfectly seasoned savory chicken and delicious vegetables in each bite.
There are 4 easy options for how to cook these potstickers. You can pan-fry them (ready in 6 minutes!) with a couple tablespoons of oil over medium heat, easily stick them in the air fryer, steam them in a steamer pot, or even microwave them! All options have you eating this delicious meal in 8 minutes or less because the potstickers come fully cooked!
One of our favorite things about this product is that the flavor is incredibly satisfying and it comes with a sauce packet. The potstickers are a combination of savory with a touch of sweet. The ginger soy sauce that comes with each serving is the perfect addition to the delicious flavor of the potsticker. While they are good on their own, the sauce adds just the right amount of finishing flavor to the potsticker.
One serving has 11 grams of protein! Protein is not only good for you, but filling! You won't find yourself hungry soon after eating these. And best of all, the protein comes from chicken that is raised without any antibiotics!
When bibigo partners with Costco, you always want to check it out- because the quantity you get is always impressive. There are over 12 servings in this Costco-sized bag, which means more mouths to feed and less trips to the grocery story. And we are all about that! In addition, they're on sale in the Costco December 2021 Coupon Book! Between November 22 and December 24, you can save $4 on each 4-lb bag of potstickers when you buy them at Costco. What an incredible deal!
7 hearty potstickers are sure to satisfy appetites and curve hunger until the next meal. Whether you add these to a meal, bring them for a delectable appetizer, or heat some up for an after-school snack, you're going to want to make these potstickers a freezer staple. Stock up at Costco now!
Bibigo creates an exciting line of products that are full of flavor and easy to make. They want to create a precise balance of ingredients and flavors in each product, and they really do! We love getting to enjoy bibigo's wide variety of products, and we know you will too with these Savory Chicken Potstickers.
Don't wait! Go buy bibigo Savory Chicken Potstickers at Costco and try them at home!