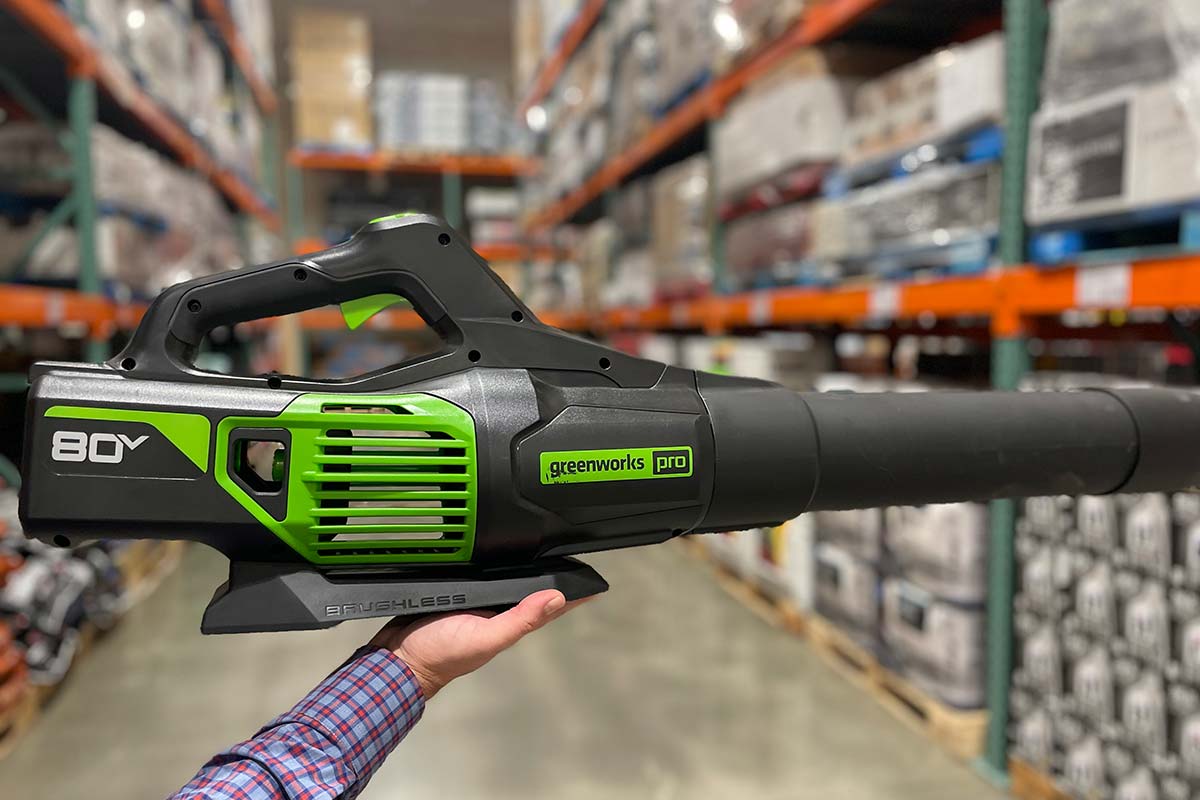 Save $60 now on one of the most useful household tools. The Greenworks Pro 80V Jet Blower is a must-have outdoor product for your home. If you are a regular reader around here, you know how often we talk about the benefits of Greenworks products, and this one is no exception.
You can find this 80V Jet Blower in Costco stores now through October 17th for $60 off the original price. As big fans of this blower, we have found countless uses for it around our homes. We use it to blow off leaves and debris that have landed on our porch, patio or driveway- this is maybe the most common use for a blower.
But we have also found the variable speed trigger very useful in cleaning out spider webs and dust from the garage, cleaning out leaves from our rock beds around the yard, blowing off dirt and pollen from our backyard umbrellas, blowing out dirt and debris from the wells in our sliding doors and windows, etc. Not to mention, cleaning the grill, kids' backyard toys, dust and pollen and spider webs around the yard, even the bed of a truck is a great place to use this blower!
We aren't kidding when we say the options are endless. This tool quickly helps us feel like we've cleaned an entire outdoor space in no time. And that gives us more time to enjoy our weekends!
With Greenworks, as always, there is a special added battery guarantee when purchased at Costco and registered on greenworkstools.com. You get FREE replacement batteries for 8 YEARS when registered through their website. That's 4 years of Greenworks base battery warranty plus 4 years of Costco Member extended warranty, for a total of 8 years!
Some of you might have noticed an online version of this blower and wondered what the difference is between the two. The only difference is the batteries. The in-store 80V Jet Blower comes with (1) 4H battery + a charger (Item Number 1666156).
The online 80V Jet Blower comes with (2) 2AH batteries + a charger (Item Number 1520823).
Both products are $60 off right now at Costco, so you can decide which needs best fit what you are looking for.
We found this Jet Blower to be highly effective for any job we wanted to get done. And we love that the electric blower vs. a gas blower was much quieter, easy to use and obviously better for the environment. NO GAS HASTLE – Ready at the push of a button!
We trust Greenworks as a company and love their products. We continue to be impressed with their customer service.
Take advantage of the last few days of this opportunity. Save $60 now until October 17th and add a much needed tool to your collection.