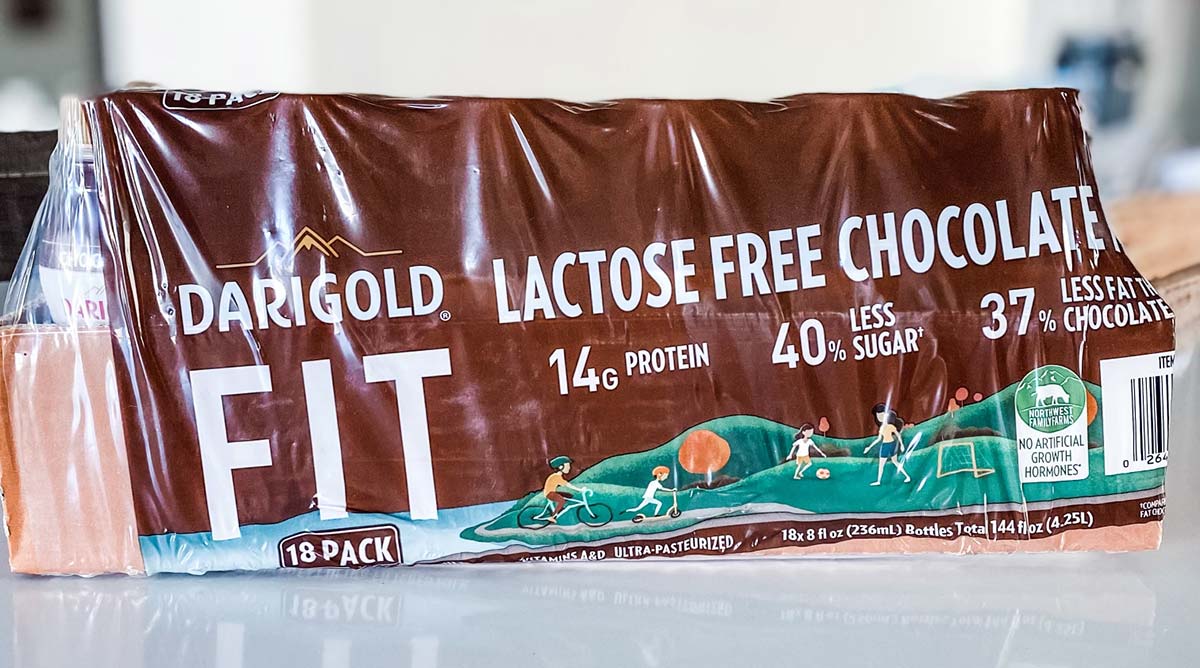 The Darigold Milk you know and love, now even healthier! Darigold FIT Chocolate milk is both healthy and delicious. When they reached out to us to review another one of their products, we were more than willing! This chocolate milk will become a staple in our pantry, without a doubt.
One of the things that grabbed our attention with Darigold FIT is that when you buy it at Costco, you get 18 single-serve portions for just $9.99! We love the single-serve size because you know exactly how much protein and sugar you are consuming, and you get to drink the entire thing! 18 cartons for $9.99 is just $0.55 per bottle! That is a 50% discount compared to other retailers.
Why call this product Darigold FIT? Well, compared to their 1% chocolate milk, Darigold FIT has 14g of protein per bottle and 40% less sugar. Better yet, FIT is lactose free and has 30% of your daily value of calcium. That means you can add this milk into your health regimen and feel really good about what is going into your body.
We also love that this milk is even healthier for children. If your kids are anything like ours, they love chocolate milk! Regular chocolate milk on the market contains an unhealthy amount of sugar. Darigold FIT has 40% less sugar than regular chocolate milk! No parent wants to feel guilty about giving their kids milk, and Darigold knows that. So with Darigold FIT your kids can now enjoy milk regularly while incorporating more calcium and protein into their diets.
And while we love all that Darigold FIT contains, we truly do love the flavor! It's creamy, rich, and refreshing. It actually tastes a little too good to be true! We had to remind ourselves that we were putting good things into our body, not indulging.
Protein is what holds your appetite over longer than any other food component, so we love adding Darigold FIT to our children's lunchboxes, our own lunches, or even as a sweet treat at night instead of dessert. It is so versatile and most definitely a convenient pantry staple.
Darigold FIT Chocolate comes in a recognizable take-on-the-go shape, easy to put in your diaper bag, purse, briefcase, gym bag, or car cup holder. It's incredibly smooth and creamy in your mouth, and doesn't leave an aftertaste like so many other protein drinks.
Don't just take our word for it! Here is what others are saying about Darigold FIT Chocolate milk:
"This is by far my kids and my favorite chocolate milk."

"This chocolate milk is delicious. I just found out I am diabetic and was sad to think I could never have anything like this again. But the lower sugar and higher protein makes it actually perfect. Highly recommend."

"I use Darigold FIT after every workout, and on most nights before I go to sleep. I can seriously credit Darigold FIT for much of the muscle I've built in my first 4 years of bodybuilding. I love it and told all my friends about it."
Darigold FIT Chocolate milk has expanded their reach and is now in all Northwest Region Costcos.  We love it and we know you will too! Head on over to Costco now!