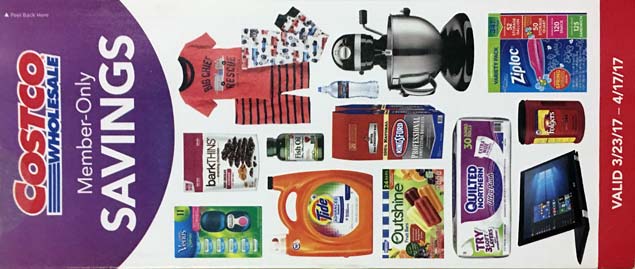 We were quite surprised when we opened up the Costco March and April 2017 coupon book! As we mentioned recently, Costco has made a lot of changes to the coupon books this year. We weren't sure what to expect, but once we opened it up we were able to relax a little. It's got a ton of deals at 18 pages long. There are also a lot of "treasure hunt" items (new items that will be fun to try). The Costco coupons will run from March 23rd through April 17th. The 16th of April is Easter, and Costco will be closed, which is why it ends on the 17th, which is a Monday. To see the coupon book simply click the link at the top of the post. If you'd like to be notified as soon as we post the latest coupons you can sign up for our email list, or Like us on Facebook!
The March and April Costco coupon book is definitely different than usual. We don't remember seeing an outdoor blanket on sale before. We also haven't seen the Chef's Cut Real Steak Jerky in store before, and can't wait to try that. The Vega Protein & Greens hasn't been on coupon before either. If you look closely, you'll notice the Gatorade coupon mentions the words "Everyday Low Price." This is an example of new every day low prices on items year round. The Samsung 65″ and 55″ TV's are another example, they don't have a discount, just a lower price. The good thing for us, the shopper, is that we won't have to pay tax on the pre-coupon amount. You can find these new every day low price items in the coupon book easily because Costco has made the background of the coupon yellow instead of white, so they stand out a little bit. The tire coupon is Bridgestone, and should stay that way through the next coupon book as well.
Still can't find the March and April coupon book? Click the link at the top of the post to be taken right to the coupons. What do you think of the change? Not as bad as you thought it might be? We believe the discounts are a little deeper than usual as well, would you agree?