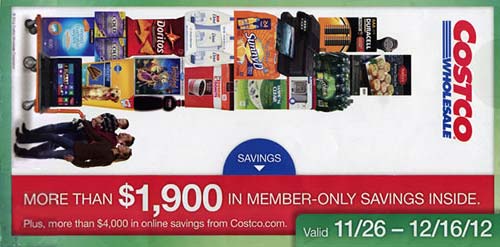 Now available is the December 2012 Costco coupon book, which is valid from November 26th to December 16th. There is actually no days off between the November coupons and the December coupons. The first link will allow you to view or download a copy of the coupon book, but there are three pages that require an actual physical coupon, which you'll have to pickup at the membership desk. These coupons also overlap with a lot of other Costco deals, such as the Black Friday TV deals, some of the Black Friday unadvertised deals, Cyber Monday deals, and more. If you'd like to be notified as soon as deals come up, make sure to subscribe to our email list, like us on Facebook, and follow us on Twitter!
This coupon book is historically geared toward Christmas shoppers and I'd say this one is no different. There are a bunch of laptops, cameras, iPod speakers, movies, and other Christmas gifts. Mini quiche and Egg Rolls are also on sale, which are perfect for those throwing Holiday parties. Most talked about is the Dunkin Donuts $4 off and the HP h8xt desktop. There really is no deal I think I will be partaking in, so I'm glad the coupon book is only 3 weeks long. It seems as if the tire coupons switch manufacturers every two months, so December is once again the Bridgestone coupon, and includes the install discount too.
Remember, at most locations you can grab a book at your membership counter if you never got it mailed to you and at some locations the cashier will have the coupon there and automatically scan it for you. I  heard they are getting more strict on this though. Perhaps to encourage the new coupon email signup program. These coupons will not work in store, as you need the barcode. Read more to see a list of the items on coupon. Have you tried any of the items in this coupon book? What did you think?
Page 1
$599.99 after $100 off HP Envy 17.3″ Laptop Computer with beatsaudio
$699.99 after $100 off HP Pavilion Desktop Computer with 25″ Monitor
$549.99 after $100 off HP Pavilion 15.6″ Sleekbook Computer
$574.99 after $125 off ACER 15.6″ Ultra Thin Laptop Computer
$749.99 after $100 off ACER 15.6″ Ultra Thin Laptop Computer
$699.99 after $100 off Dell 14″ Ultrabook Laptop Computer
$139.99 after $50 off Samsung 24″ Class HD LED Computer Monitor
$50 off Vizio 47″ Class LED LCD HDTV
Page 2
$109.99 after $60 off HP Photosmart 7525 Wireless Inkjet Printer
$119.99 after $20 off Seagate 3TB Backup Plus External Hard Drive
$80 off Sony CX-260 Digital HD Camcorder
$50 off Sony HX10V Digital Camera
$30 off Sony Speaker for iPad/iPhone with Bluetooth Streaming
$30 off Jambox Wireless Bluetooth Speaker
$50 off Yamaha 5.1 Channel Receiver with AirPlay
$49.99 after $20 off Jabra Tour Bluetooth Car Speaker
Page 3
UP To $340 OFF T-Mobile Samsung Galaxy Note, UP To $99.99 OFF Verizon-Samsung Galaxy Stratosphere II – 4G LTE, UP To $130 OFF AT&T Samsung Galaxy Express, UP To $120 OFF Sprint Samsung Galaxy S III – 16GB
$20 off Scosche 2-Pack Earphones with Mic
$20 off Uniden 1680 4-Handset Phone System
$50 off Uniden Wireless Surveillance System
$2.80 off Kellogg's Fruity Snacks
$1.50 off Doritos 30oz
$2.25 off Quaker Oatmeal Squares
$2.25 off Kellogg's Tri Fun Pack
Page 4
$2.30 off Sunny D
$3.50 off Perrier Sparkling Water
$3.50 off Cuisine Adventures OR Nancy's Mini Quiche
$1 off Torta Sandwich Rolls
$4 off Bertolli Chicken Margherita & Penne Skillet Meal
$3 off Minh Egg Rolls 3oz Pork OR Mini Chicken
$2 off Kotex Natural Balance Liners
Buy One Get One free Jerky Treats for Dogs
$4 off DentaStix
$3 off Air Wick Scented Oils
Page 5
$3.25 off Finish Powerball 100ct AND/OR Jet-Dry 32oz
$3.50 off Wisk Deep Clean Liquid Laundry Detergent
$30 off AeroBed Queen Airbed with Headboard
$6 off Wahl Complete Haircutting Kit with Finishing Trimmer
$25 off Philips Norelco PowerTouch Shaver with Aquatec
$25 off Philips Sonicare Elite Rechargeable Toothbrush Set of Two
$24 off Philips Sonicare AirFloss; $55 off Oreck Magnesium Vacuum
$5 off KitchenAid Dish Rack
$15 off Ricardo Beverly Hills Lightweight 20″ Spinner Carry-On
Page 6
$8 off Disney Animated Movies Blu-ray AND/OR 3D
$5 off Disney Animated Movies DVD
$4 off Kraco Rubber All-Weather Car Floor Mats
$2 off Duracell Alkaline Coppertop AND/OR Ultra Advanced Batteries AA AND/OR AAA
$4 off Old Town Leather Photo Album
$16 off Quicken WillMaker Premium 2013
$3 off Pure Alaskan Omega Alaskan Omega-3 180ct AND/OR Wild Alaskan Salmon Oil 180ct
$3 off CHOOSE FROM: One A Day Women's 50+ Advantage Multi 200ct OR Men's 50+ Advantage Multi 200 ct,
Citracal Maximum Calcium Citrate + D 240ct, Aleve Capsules 320ct OR Liquid Gels 160ct
$3 off Kirkland Signature CHOOSE FROM: Daily Multivitamin Pack with Energy 100ct, Performance Multivitamin 300ct, Enteric-Coated Fish Oil 1/day 180ct, Chewable Vitamin C 500mg 500ct, Calcium Citrate 500 mg 2/250ct, Children's Chewable Multivitamin 300ct
$3 off Nature Made CHOOSE FROM: Fish Oil 1200mg 2/200ct, Calcium 750mg with D & K 300ct, Vitamin C 500mg 180ct, Multi Mini Complete 180ct
Page 7
$7 off CHOOSE FROM: Exergen Temporal Thermometer, Microlife Blood Pressure Monitor, Omron Blood Pressure Monitor
$3.50 off CHOOSE FROM: FiberChoice Sugar-Free Assorted Fruit 220ct, Beano Tablets 132 ct, NeilMed Sinus Rinse Kit
$5 off CHOOSE FROM: Delsym 12-Hour Cough Suppressant 2/5oz, Mucinex DM 48ct, Max Strength 48ct, Fast-Max Severe 2/9oz
$3 off Kirkland Signature Moist Flushable Wipes
$3 off Wipe'n Clear Lens Wipes
$3 off CHOOSE FROM: Kirkland Signature Lansoprazole 15mg 3/14ct, Kirkland Signature Ibuprofen Capsules 200mg 2/180ct Phillips Colon Health 90ct
$3 off EcoDrink Multivitamin Powder
$4 off Zantac Tablets 150mg 2/45ct AND/OR Dulcolax Laxative Tablets 200ct
$3 off CHOOSE FROM: Airborne Effervescent Tablets 2/18ct, Airborne Chewables 116ct, Schiff Digestive Advantage Probiotic Gummies 120ct
$2 off Kirkland Signature CHOOSE FROM: Mucus Relief Tablets 2/200ct, Acetaminophen PM 500mg Rapid Release Gelcaps 375 ct, Cold Day/Night Gelcaps 2/96ct
Page 8
$8 off Nature Made Coenzyme Q10 200mg
$10 off PUR Faucet Mount System with 4 Filters AND/OR Faucet Mount Filters 6 pk
$70 off ANY SET of 4 BRIDGESTONE TIRES plus $30 OFF INSTALLATION of ANY SET OF 4 BRIDGESTONE TIRES
$3 off ZzzQuil Liquid Sleep-Aid
$4 off Dunkin' Donuts Coffee 40oz
$2 off Nabisco Wheat Thins
Page 9
$4 off Zipfizz Variety Pack
$2.25 PerfecTouch Hot Cups
$2 off Palmolive Liquid Dish Soap 90oz
$2.25 off POM Wonderful Juice 60oz
$3 off Skippy Peanut Butter
$2.25 off Victoria Marinara Sauce
$3 off Ghirardelli Premium Chocolate Assortment 27.01oz bag
Page 10
$3.50 off Dove Bar Soap 16pk
$3 off Dove Body Wash 3/24oz
$4 off Nexxus Therappe Shampoo
$8 off Nexxus Humectress Conditioner
Up To $40 off ACUVUE CHOOSE FROM: $10 off 4 BOXES OF: ACUVUE Oasys, ACUVUE Oasys for ASTIGMATISM, ACUVUE Oasys for PRESBYOPIA, $20 OFF 4 BOXES OF: 1—DAY ACUVUE MOIST 90pk
Page 11
$99.99 after $20 off Garmin nüvi 50LM 5″ GPS
$549.99 after $150 off Cannon Safe CS24 Executive Safe
$349.99 after $100 off Q-See 8-Channel Full D1 Surveillance System
$139.99 after $30 off Commercial Propane Patio Heater
Page 12
$799.99 after $200 off Dell Inspiron Blu-ray Laptop Computer
$499.99 after $150 off Dell Inspiron 15 Laptop Computer
$899.99 after $400 off HP dv6t Quad Edition Laptop Computer
$699.99 after $200 off HP h8xt Desktop Computer Chassis
$999.99 after $500 off NewAge Products 7-Piece Metal Workshop/Garage Cabinet Set
$79.99 after $20 off Yukon Charlie's Pro-Guide Aluminum Snowshoe Kit
$5499.99 after $1000 off Evolution Spas Buenos Aires 80-Jet, 6-Person Spa
$449.99 after $100 off NovaForm Pure Comfort Queen Mattress
Page 13
$1199.99 after $200 off Vinotemp 160-Bottle Wine Cooler
$159.99 after $40 Garmin Forerunner 410 Sports Watch
$2,199.99 after $500 off Lorenzo 4-Piece Top Grain Leather Set
$139.99 after $40 off Behringer iNuke Boom Junior Docking Station for iPhone/iPad
$149.99 after $20 off Ooma Telo VoIP Free Home Phone Service with Linx Wireless DECT Remote Phone Jack
$1599.99 after $300 Uptown 5-Piece Queen Bedroom Set
$99.99 after $40 off Swingline Stack-and-Shred 60X Hands-Free Cross-Cut Shredder
$599.99 after $100 off Sealy Posturepedic Chapman Plush Queen Mattress Set