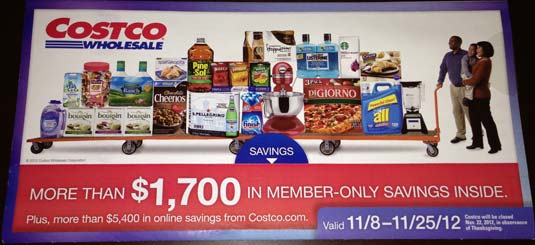 Hot off the presses is the new November 2012 Costco coupon book, which runs from November 8th to November 25th. There are only four days between the October 2012 coupon book and the November 2012 coupon book. Clicking the first link will allow you to view it or download it. One curious note is that these coupons run through Black Friday. There will be a special coupon book posted just for Black Friday and I will post about it as soon as I get it. If you'd like to be notified about it as soon as it goes up make sure to subscribe to our email list, like us on Facebook, and follow us on Twitter! EDIT: The Costco Black Friday 2012 ad is now available.
There is not much in this coupon book that is drawing attention. The Waterpik water flosser combo is an okay deal at $15 off (likely AC price of $65) if you need both pieces. Otherwise, the other deals of interest are the Custom Holiday Cards and Personalized Photo Greeting Cards, which are both $5 off and great for sending Christmas cards. This deal only comes around once a year, so you should take advantage while you can. For us, the only thing we might buy on coupon would be the Over and Back "Sides" Bowls, which we almost bought yesterday when not on coupon. The tire coupon has moved back to Bridgestone, and includes the installation $30 discount as well. The pages of discounts requiring physical coupons are back down to 3 pages. Hopefully Costco will continue to use Instant Discounts more.
Remember, at most locations you can grab a book at your membership counter if you never got it mailed to you and at some locations the cashier will have the coupon there and automatically scan it for you. I  heard they are getting more strict on this though. Perhaps to encourage the new coupon email signup program. These coupons will not work in store, as you need the barcode. Read more to see a list of the items on coupon. Have you tried any of the items in this coupon book? What did you think?
Page 1
$624.99 after $75 off HP Linen White 14″ Laptop Computer with beatsaudio
$874.99 after $125 off HP 17.3″ Full HD 1080p Laptop Computer with beatsaudio
$699.99 after $100 off Toshiba 15.6″ Ultra Thin Laptop Computer
$749.99 after $100 off Acer 15.6″ Touchscreen Ultra Thin Laptop Computer
$999.99 after $150 off HP Touchsmart All-In-One Computer with beatsaudio
$50 off Westinghouse 40″ 1080p 120Hz LED LCD HDTV
$40 off Samsung 27″ Class 1080p LED LCD HDTV
$80 off Canon SX500 IS Camera
Page 2
UP TO $210 OFF T-Mobile Samsung Galaxy S III (White) – 16GB
UP TO $20 OFF DROID RAZR M by MOTOROLA – 4G LTE
UP TO $130 OFF AT&T Samsung Galaxy S III (Red) – 16GB
UP TO $150 OFF Sprint Motorola Photon Q – 4G LTE
$99.99 after $30 off Panasonic KX-TGI55SK 5-Handset Phone System
$20 off WD My Passport 2TB Portable Hard Drive
$30 off Garmin 4.3″ GPS with Lifetime map updates and traffic alerts
$30 off Casio WK-220 ST 76-Key Keyboard
Up To $4.50 off TDK Optical Media CHOOSE FROM: $4.50 OFF DVD+R 100 pk Item 184595, $4.50 OFF DVD-R 100 pk Item 184562, $3.50 OFF CD-R 100 pk Item 866957
$4 off Kirkland Signature Jelly Belly, The Original Gourmet Jelly Bean
$2.80 off Lindt Lindor Truffles
Page 3
$2 off Tostitos Artisan Chips
$4 off Vita Coco Coconut Water
$2 off Crunchmaster Multi-Grain Crackers
$3 off Carr's Cracker Collection 5 pk
$2.30 off Swanson Chicken Broth
$2 off Hidden Valley Ranch Dressing
$2.25 off Life Cereal
$2.90 off Chocolate Cheerios 36oz
$2 off Pine-Sol 175oz AND/OR Liquid-Plumr 2/80 oz
$2.50 off Scotch-Brite Sponges
Page 4
$3 off Finish Jet-Dry
$3 off Air Wick Scented Oil
$3 off Starbucks Frappuccino
$3 off San Pellegrino Mineral Water
$2.50 off Plats du Chef All Natural French Onion Soup
$3.50 off Cuisine Adventures OR Athens Foods Spanakopita
$4 off DiGiorno Pizza
$2.25 off Boursin Variety Pack
$4 off Aquafresh Extreme Clean Toothpaste
$2.50 off Dove Men's Body Wash
Page 5
$2.25 off Softsoap Advanced Clean Liquid Hand Wash
$3 off Woolite Complete 133 oz, Woolite Dark 133 oz AND/OR Spray 'n Wash 22oz + 144oz refill
$2.50 off Duracell Coppertop Batteries C AND/OR D, 12 pk
$10 off Waterpik Chrome Handheld Showerhead
$4 off Over & Back "Sides" Bowls Porcelain, 4 pk
$10 off Corningware Etch 5 pc Bakeware Set AND/OR Pyrex Portables Glass 8 pc Bakeware Set
$30 OFF FoodSaver Vacuum Sealing System
$10 OFF Crock-Pot 6-Quart Stainless Steel Slow Cooker
$35 OFF Brother Computerized Sewing and Ouilting Machine
$30 OFF Philips Sonicare Healthy White Platinum Edition Rechargeable Toothbrush Dual Pack
Page 6
$50 OFF KitchenAid Professional Stand Mixer
$30 OFF Norelco SensoTouch 3D Razor
$15 OFF Waterpik Water Flosser Traveler Combo
$25 off Ninja Kitchen System
$15 off Cuisinart Griddler Gourmet
$6 OFF Sunbeam Heated Throw
$6 OFF Christmas Classics Blu-ray AND/OR DVD
$3.70 OFF Bicycle Playing Cards
$25 OFF Norton Internet Security 2013
$30 off Adobe Photoshop Elements 11
Page 7
$5 OFF Joint Movement Glucosamine
$5 OFF Joint Juice Glucosamine Chondroitin
$12 OFF CosaminDS, $3 OFF CHOOSE FROM: Centrum Silver Men's 250 ct OR Women's 250 ct, Advil Children's Grape Suspension 3/4oz, Infant Drops 3/15mL, Congestion Relief 50ct, $4 off CHOOSE FROM: AmLactin Moisturizing Body Lotion 20oz, Slo-Niacin 500mg 150ct, FocusFactor 150ct, Natrol 5-HTP 150ct, Weider Red Yeast Rice Plus 600mg 180ct
$3 OFF Nature Made CHOOSE FROM: Vitamin D3 1000 I.U. 560ct, Vitamin E 400 I.U. Natural 225 ct, Vitamin B-12 1000 mcg 375ct, Odorless Garlic Complex 300 ct
$5 off Nature Made CHOOSE FROM: TripIe Strength TripleFIex 150ct, Triple Omega 180 ct, Diabetes Health Pack 60 ct, CholestOFF 240ct, CholestOFF Plus 200ct, Prenatal + DHA 150ct
$5 OFF selected Bausch & Lomb products
$5 off Qunol Liquid CoQ10 100mg 20oz AND/OR Qunol Mega CoQ10 100mg 120ct
$7 off Estroven Maximum Strength 60ct AND/OR Culturelle Digestive Health Probiotic 80ct
Page 8
$4 OFF TruNature CHOOSE FROM: Coenzyme Q10 100mg 150ct, Cranberry 300mg 220ct, Reservatrol 250mg 140ct, Flaxseed Oil 1300mg 300ct, Ginkgo Biloba 12 mg 300ct, Advanced Strength CinSulin 170ct
$3 OFF CHOOSE FROM: Ocean Complete Nasal Care System, Alcon Opti-Free, Systane, Clear Care Solution
$5 OFF Nature's Bounty CHOOSE FROM: Sublingual Vitamin B-12 250ct, Vitamin D3 5000 I.U. 300ct, Maximum Strength Fish Oil 1400mg 130ct, Hair, Skin & Nails 250ct, Complete Vitamin Chocolate Shake Mix, Ester-C 500mg 300ct
$3 off CHOOSE FROM: Ricola Sugar-Free 2/105ct, Variety 2/130ct, VitaFusion Calcium Gummies 2/100ct, Multivites Gummies 250ct, Fiber Well Gummies 220ct
$5 off CHOOSE FROM: Delsym 12-Hour Cough Suppressant 2/5oz, Mucinex MS Maximum 48ct, DM Maximum 48ct, FastMax Severe 2/9oz
$3.50 off CHOOSE FROM: Citrucel Sugar-Free Povvder 42oz, Caplets 240ct, Tums Ultra Berry 265ct, Extra-Strength Assorted Fruit 330ct, Breathe Right Extra 44ct, Advanced 44ct
$2 off Kirkland Signature Choose From: Acetaminophen 500 mg Rapid Release Gelcaps 400ct, Acetaminophen Pl\/I 500 mg Capsules 375 ct, Cold Day/Night Gelcaps 2/96ct, Mucus Relief Tablets 2/200 ct
$4 off Zantac 150mg Tablets AND/OR Dulcolax Laxative Tablets 200 ct
$3 off Cottonelle Flushable Wipes 400 ct
$2 OFF Halls Cough Drops
Page 9
$70 off ANY SET OF 4 Bridgestone Tires PLUS $30 OFF INSTALLATION OF ANY SET OF 4 Bridgestone Tires
$5 off Starbucks French Roast Whole Bean Coffee 2.5lbs
$3.25 off Starbucks Via Instant Coffee Colombian AND/OR Italian Roast 24 ct
$1.50 off Vanity Fair Napkins
$2.35 off Dixie Plates
$2.50 off Gain Laundry Detergent Liquid OR Powder
$2.50 off all Liquid Laundry Detergent Stainlifter AND/OR Free&Clear
$2.50 off Clorox Toilet Bowl Cleaner 6/24oz AND/OR Clorox Disinfecting Wipes 4/78ct
Page 10
$2.25 off Jimmy Dean Pre-Cooked Turkey Sausage Links
$2.25 off Pillsbury Crescent Rolls
$2 off Philadelphia Cream Cheese
$4 off Lubriderm Daily Moisturizer
$7 off ROC Gold Correxion Day AND/OR Night Facial Moisturizer
$2.50 off Listerine Cool Mint Mouth Rinse
$4 off CoverGirl Lash Blast Fusion Mascara
$8.99 off BUY Gillette Fusion Cartridges 16pk AND Gillette Comfort Advantage Shave Gel 4/8.4oz GET $8.99 off your total purchase
Page 11
$5 off Gillette Custom Pivot Disposable Razors 52ct
$4 off Neutrogena Rainbath 40oz
$16 off StriVectin-EV Get Even Brightening Serum 2/1oz AND/OR StriVectin-TL 360 Tightening Eye Serum 2/0.65oz
$30 off BUY ONE PAIR of eyeglasses and GET $30 OFF each additional pair for same individual.
Page 12
$369.99 after $30 off Blendtec Total Blender
$899.99 after $300 off HP dv6t Quad Blu-ray Laptop Computer
$699.99 after $200 off HP g6t Select Blu-ray Laptop Computer
$1199.99 after $300 off Dell XPS 8500 Desktop Computer