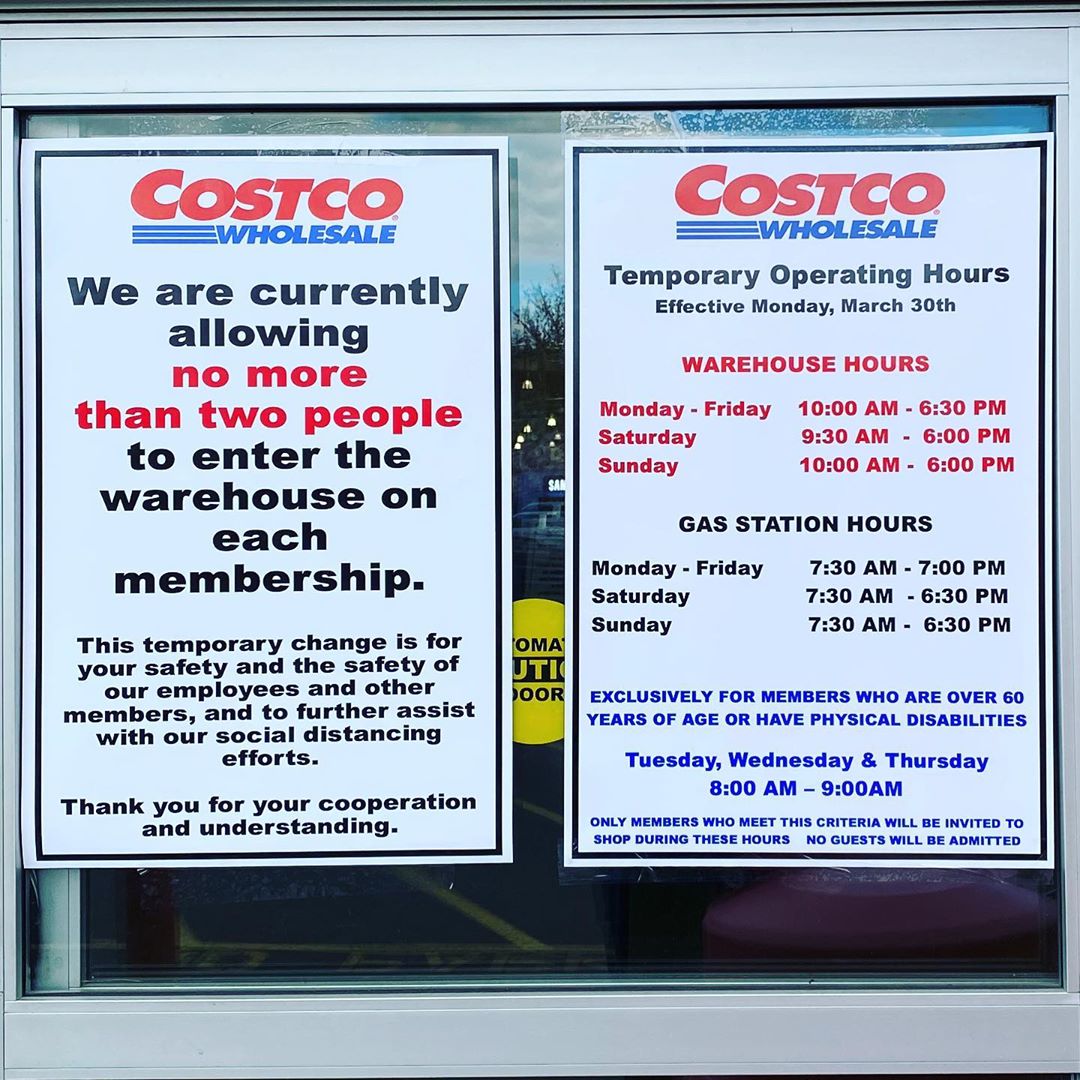 UPDATED 4/8/2020: We have compiled a list of all the policy changes Costco has made recently in an effort to keep its employees and members safe from Covid-19. As usual we were the first to bring you many of these stories via our Instagram page. If you're not following us on there you're missing a ton of good insider information. The summary of all the Costco Coronavirus changes are below:
Costco special access for healthcare workers and first responders
4/8/2020: Costco is now allowing healthcare workers and first responders to get priority access to the building temporarily. What this means is that they'll be allowed to go to the front of the line to enter the warehouse. Official ID must be presented. First responders include EMT, police officers, and firefighters.
Costco limit on number of members allowed in per card
4/1/2020: Normally with a Costco membership you're allowed to bring in two guests and any children. Now you'll be limited to two people total allowed in with a Costco membership card. This is a temporary policy with no set end date. No longer can a family of 6 go into the store. This policy begins April 3rd.
Costco coronavirus scam circulates
3/29/2020: There are text messages going around saying that Costco is giving $130 in freebies to loyal Costco members due to the coronavirus. It asks you to fill out a customer survey. This is definitely a scam.
Costco changes operating hours temporarily
3/26/2020: Starting March 30th Costco changed their operating hours. The Costco coronavirus hours are changed so that Monday to Friday they now close at 6:30pm and on the weekends it's 6pm. These reduced hours are partly due to the stores not being as busy during the coronavirus outbreak. This will help Costco save some labor costs. Considering Costco is usually really busy in the morning, with long lines before they open, it makes sense that it is quiet in the evening as they run out of toilet paper, water, and more.
Costco installs checkout shields
3/24/2020: The 6 foot tall plastic shields protect cashiers from potentially being sneezed or coughed on. If all of Costco's cashiers were to get sick then they could not run a business, so it's definitely in their best interest to keep them as safe as possible. This provides little to no interruption to the members shopping experience.
Costco implements special operating hours for Seniors
3/21/2020: Some locations started this earlier but it became an official Costco policy on 3/21/2020. It started out as Tuesdays and Thursdays from 8am to 9am is when those over the age of 60 or those with physical disabilities will be allowed to exclusively shop. It has since been expanded to include Wednesdays as well. Some warehouses also allow those that are pregnant or those that are immunocompromised to shop as well, but that's a case by case basis and it would be wise to call your local store ahead of time to ask. No guests will be admitted if they do not meet the criteria to enter.
Costco no longer accepting returns on specific items
3/18/2020: Returns will not be accepted on:
Toilet Paper
Paper Towels
Sanitizing Wipes
Water
Rice
Lysol
This made a lot of our Instagram followers very happy! Many believe hoarders bought a lot of the essential items in an effort to resell for profit. Now what they can't sell will they could lose money on as they no longer will be able to return it. Also, limiting returns helps employees stay safer as they potentially don't have to touch something that has the virus on it.
Costco food court menu reduced
3/16/2020: The Costco food court reduced their menu to only include hotdogs and full take out pizzas. Part of the reasoning is so that members don't sit near each other eating Costco food. The tables were also eventually removed as well. Since there's so much empty space in the steel now it was easy to find a place to put the tables.
Costco coronavirus panic hits stores hard
3/14/2020: Costco stores start running out of supplies due to the coronavirus panic. Members get to Costco early before opening and wait in line for hours in hope that they'll get toilet paper, water, and more, before Costco runs out for the day. Shelves become bare and stores start putting out signs outside the building letting members know what is not available at that time.
Costco samples suspended until further notice
3/5/2020: Samples are definitely one of many members favorite things about Costco. It also is a great way to try a new product before buying it. CDS (Club Demonstration Services) is the company that runs the samples, they're not actually Costco employees. Initially Costco stepped up to the plate and employed the CDS employees around the warehouses mostly in sanitation roles such as cleaning carts, food court tables, and gas pumps. The latest report says that Costco has severed ties with CDS for the time being.
Costco steps up social distancing efforts
Continuously: As time has gone by Costco continues to find ways to increase social distancing for shoppers. That includes laying out pallets to separate members while they wait in line outside the store. Costco has limited the number of members allowed into the store at any one time, making it easier to keep distance from other members while shopping. There are tape markers 6 ft apart while you wait in line at the registers. Every other register is closed to create more spacing for those waiting in line. Some locations have created plastic shields for the receipt checkers as well.
We'll continue to provide updates as the Covid-19 coronavirus situation unfolds. Make sure to follow us on Instagram as well as subscribe to our email list to make sure you continue to receive the latest news!
Feature image courtesy of TheCostcoConnoisseur