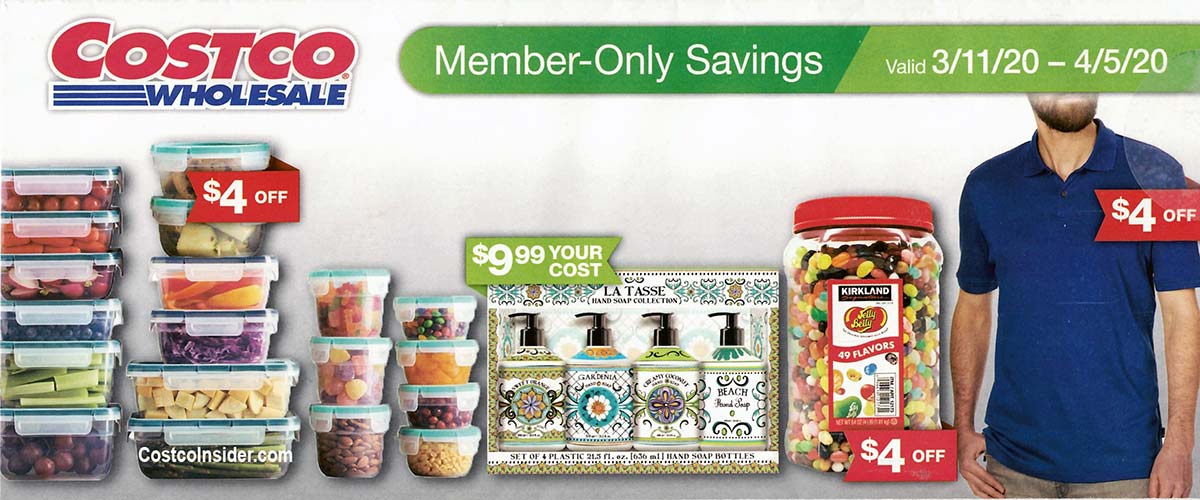 We've just posted the March 2020 Costco Coupon Book! The dates for the month of March 2020 Costco coupons runs from March 11th through April 5th. Clicking the link above will take you right to the coupons where you'll be able to enlarge them by clicking on them. This is the largest coupon book we've seen in quite a while at 27 pages long! If you want to be notified as soon as we release the next coupon book make sure to sign up for our email list, Like us on Facebook or Follow us on Instagram.
There's a lot to unpack in the March 2020 Costco Coupon Book. It starts out with SUN-sational savings of moisturizer and sunscreen. After that there's a page of lawn and gardening care items by Miracle-Gro and Scotts (Turf Builder). Huggies Pull-Ups diapers are $7.50 off. For those that get spring allergies there are Zyrtec and Claritin deals that make a great time to stock up, as well as Breathe Right and Flonase for the nose. For those looking to stay clear of the Coronavirus there's Softsoap Advanced Clean Liquid Hand Soap at $3 off. The Pots & Co Chocolate Fudge Lava Cake at $3 off is definitely the extra push needed to convince yourself to buy it. Bridgestone tires are back on sale this month and $110 off as usual.
If you can't find the link to the get the coupons you need to check two things. First, double check you're on the post page called Costco March 2020 Coupon Book. Secondly, click the link in the first sentence of the post, titled March 2020 Costco Coupon Book. Lastly, if you're still having trouble then you can go directly to the first page of the coupon book here. So, with the extra deals this month what do you think? Is this a better coupon book than the last few months have been?