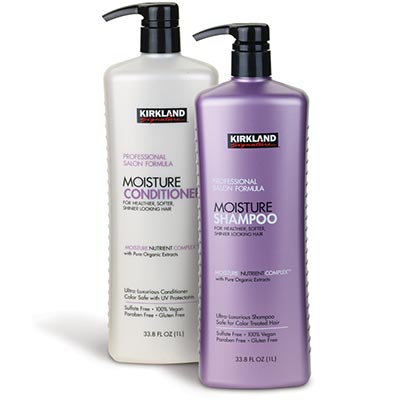 After a long wait, I finally received my free sample of the new Kirkland Signature Moisture Shampoo and Conditioner. So often I get free samples only to use them while traveling. This one, however, I opened right away. Reviews had said that it was as good if not better than expensive salon products. Plus, while it's not a requirement for me to buy, it's great that it is sulfate free, paraben free, 100% vegan, gluten free, had no animal testing and is safe for color treated hair.
A little background: I have semi-fine curly, highlighted hair that I wash every other day. I straighten it pretty much every day, which makes the color treated sections much drier with damage. I try to protect it and add more moisture by using serums before blowdrying and straightening. The challenge for me is to find a shampoo and conditioner that has the moisture needed for my curls and damaged hair, but that won't make it oily.
My first impressions of the shampoo were that it was thick and creamy, unlike most shampoos I use which are more gel-like. The scent wasn't amazing, but it wasn't bad either. It didn't lather as much as most shampoos, but it didn't completely lack it even though it's sulfate free. In all, it felt like it cleaned my hair and started the moisturizing process. It worked much better than the other sulfate free shampoos I've used (Organix and Burt's Bees). The conditioner was close to perfect for me. It was creamy, almost pearlescent. It seemed to soak in much more than the Dove Go Fresh one I have been using (also sold at Costco).
The day after, my hair was still soft, but not oily. Or at least, not much more than normal. I used much less serum before blowdrying and straightening because my wet hair had retained much more moisture than before. In reading more about the conditioner has added UV protectants that "filter out the sun's damaging rays."
In the past, Dove has been my cheaper shampoo and conditioner of choice, particularly their Advanced Color Therapy lines. The Kirkland Signature Shampoo and Conditioner, however, surpasses them all. I am ready to ditch my Dove Go Fresh and stick with Kirkland. While the price is more than what I've paid in the past, it may just be worth it for what it did to my hair. Plus, it would last a good long while.
Have you tried it? What was your experience?