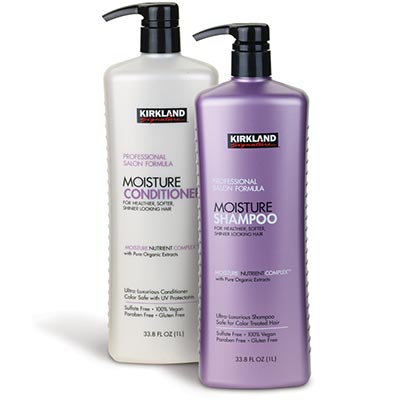 Costco is giving away a free sample of the new Kirkland Signature Shampoo and Conditioner.  They have changed the formula once again.  While many people praised the quality of the shampoo and conditioner in the past, there is one gripe that stood out, the fragrance.  Many people described it as a cherry vanilla smell.  From what I understand, this new formula is much better, and I have heard reports that it has a slight coconut smell to it.  It's sulfate free, paraben free, 100% vegan, gluten free, had no animal testing and is safe for color treated hair.  Reviewers have also said that in general, the Kirkland Signature shampoo and conditioner have worked better than the expensive $20 bottles they get in the salons.  I believe the last product was manufactured by Nexxus.  I'm excited to try it out myself and see what I think.  Have you tried it?  Thoughts?
Costco description:
Experience the NEW Kirkland Signature Professional Salon Quality Moisture Shampoo and Conditioner formulated to replenish and maintain moisture and deliver the highest-quality performance available today. These ultra-luxurious sulfate-free formulas contain gentle cleansers that are safe for color treated hair, are paraben free and gluten free, and protect hair from heat styling and UV light. Our exclusive Moisture Nutrient Complex enriched with Pure Organic Extracts provides hydration, nourishment, and helps improve the overall performance, manageability, and vibrancy of hair.

Your hair will look healthier, softer and shinier after just one use.
EDIT: Check out my review of the new shampoo here!
EDIT 2: Looks like the free sample is no longer available. You'll have to buy it in store now.