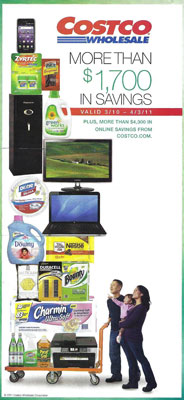 Checkout the upcoming March 2011 Costco coupon book, which as usual, is uploaded here in my Google Docs. The dates run from March 10th to April 3rd. People seem to be excited over the beef jerky, which I enjoy quite a bit myself. Also, I've heard a lot of great reviews on the Palermo's pizza and the chocolate chips are a steal at the after coupon price. Another steal will be the 55″ Sony LED 3D TV. After coupon it should be only $1589.99. I still can't believe that price. I plan to pickup some beef jerky, try the Palermo's pizza, and the 6 ft. folding table, which has not been on sale for a long time, if ever. What about you? Anything excite you? Here are some prices after coupon:
Sony 55″ 3D TV: $1589.99
Bounty Paper Towels: $16.89
Remember, at most locations you can grab a book at your membership counter if you never got it mailed to you and at some locations the cashier will have the coupon there and automatically scan it for you. I heard they are getting more strict on this though. Perhaps to encourage the new coupon email signup program.