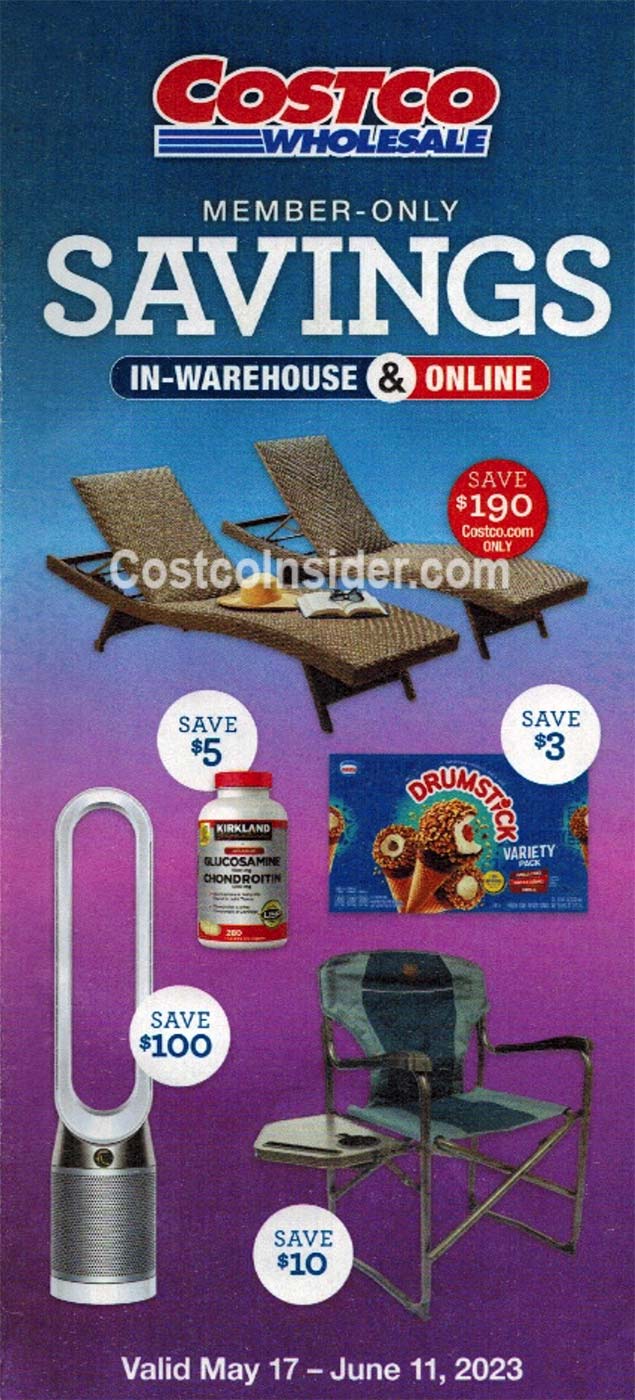 Today we're excited to release the upcoming Costco May and June 2023 Coupon Book. The May and June 2023 Costco coupons will run from May 17th through June 11th. In order to reveal the coupons simply click the link above and you'll be taken right to them. While waiting for the May and June coupons to begin make sure to look at the Costco May 2023 Hot Buys Coupons which are valid right now, running from May 6th through the 14th and fills the gap between coupon books. If you want to get notified as soon as we release the upcoming Costco July 2023 Coupon Book then make sure to sign up for our email list, follow us on Instagram and Like us on Facebook!
There's one deal that definitely stood out to us in the Costco May 2023 Coupon Book! The Orgain Collagen Peptides + Probiotics is a new product and it's $9 off, which is a steal! We love how they use cleaner ingredients and higher standards compared to their competitors. Between using grass-fed and pasture-raised collagen peptides, prebiotics and probiotics, no dairy or soy, no sugar added, and more, we are big fans! The Nestle Drumstick Variety Pack is a great deal at $3 off. It's always nice to stock up on Spindrift Sparkling Water when it's on sale too, at $5 off. This months tire coupon is Michelin at $150 off a set of 4 tires.
If you can't get the link above to work and are still looking for the coupons you can also click this link to go directly to the first page of the slideshow for the May and June 2023 Costco Coupon Book. Which items are you going to buy while on sale this month at Costco? Leave a comment and let us know!
Here's a few of the deals in the Costco May and June 2023 Coupon Book:
Orgain Collagen Peptides + Probiotics $9 off
Pantene Advanced Care Shampoo and Conditioner $2.50 off
Youtheory Ashwagandha $4 off
Harry's/Flamingo Razors $6 off
Hang Ten Long-Sleeve Tee $3 off
Hang Ten Swim Short $4 off
Hang Ten Hybrid Short $4 off
Alba Botanica Hawaiian Sunscreen 2pk $5 off
OFF! Deep Woods Insect Repellent $5.50 off
Vitafusion Calcium + D3 $3.50 off
Prilosec OTC $5 off
One A Day Complete Multivitamins $4 off
Citracal Calcium Supplement $4 off
Always Pure Cotton with Flexfoam $5 off
Kirkland Signature UltraClean Laundry Detergent $3.90 off
Qunol $6 – $10 off
Trunature Advanced Strength CinSulin $3.50 off
Kirkland Krill Oil $5 off
L'il Critters Gummy Vites $3.50 off
Nylabone Broth Bones $7 off
BioFreeze 2pk $4 off
Bayer Aspirin $3 off
Focus Factor $5 off